 No Pets (Rafael Nadal)
Tennis champ Rafael Nadal doesn't have any pets and sadly, he's not a fan of them either. In his 2011 Autobiography Rafa, he brings up his fear of animals and dogs, saying "I Doubt their intentions". Also known for his OCD tendencies, he also mentions his fear of thunderstorms, sleeping in dark, along with ham and cheese. We hope one day he can overcome his distrust to get a dog himself, so the dog can help him get over his fear of the dark and show him how tasty ham and cheese are!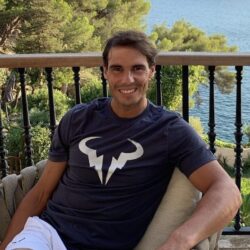 Birthday
June 3, 1986 (37)
Rafael Nadal Parera is a Spanish professional tennis player. He's known as one of the most successful men's tennis players in the history of the sport, holding the all-time record of 22 Grand Slam men's singles titles, 36 Masters titles, two Olympic gold medals, and many more achievements.
He's considered part of the "Big Three" which refers to him, Roger Federer and Novak Djokovic as the three most successful male tennis players, with the trio in tight competition over the last 15 years.
Nadal has also made several appearances in film and television. He played a cameo role in the Spanish television series "Los hombres de Paco" and appeared as himself in the film "Wimbledon." He has worked with musician Enrique Iglesias on charity events and played tennis with famous athletes such as Cristiano Ronaldo and Pau Gasol. Additionally, Nadal has been an ambassador for several organizations, including the Laureus Sport for Good Foundation and the Special Olympics.