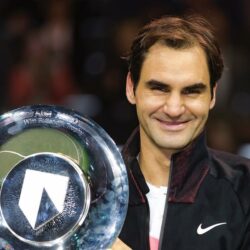 Birthday
August 8, 1981 (41)
Roger Federer is a Swiss professional tennis player. He is ranked No. 11 in the world by the Association of Tennis Professionals (ATP). He has won 20 Grand Slam men's singles titles. Federer has been world No. 1 in the ATP rankings a total of 310 weeks – including a record 237 consecutive weeks – and has finished as the year-end No. 1 five times. Federer has won 103 ATP singles titles, the second most of all-time behind Jimmy Connors, including a record six ATP Finals. He has one dog: A poodle named Willow.
He's considered part of the "Big Three" which refers to him, Novak Djokovic, and Rafael Nadal as the three most successful male tennis players, with the trio in tight competition over the last 15 years.
He appeared as himself in the films "Wimbledon" and "The Dark Knight Rises" and made a guest appearance on the hit television show "Billions" starring Damian Lewis and Paul Giamatti. Federer has also collaborated with several other celebrities throughout his career. He has played tennis with stars such as Bill Gates and Will Ferrell, and he has teamed up with musician Lenny Kravitz for charity events.