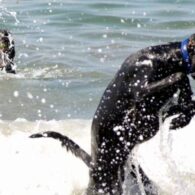 Linus
Henry Winkler had a Great Dane-Labrador mix named Linus. In 2009, his wife found what she thought was a Labrador puppy abandoned in a parade. They took the 4-month-old pup to a shelter, who said if no one claims him in a week, they can keep him. Linus grew to be a lot bigger than a regular lab and ended up being part Great Dane. Linus passed away in May 2019 at 10 years old. Dervin
Henry Winkler's first dog was an Irish Setter he got as a child. When asked by Be Chewey if he's always been a dog lover, he said, "I've always been a dog lover! I had an Irish Setter when I was 8. Her name was Dervin, and she was beautiful. My mother didn't like dogs so she told me that Dervin went to a farm where she had more room to run. I got over that like last Thursday (laughs)."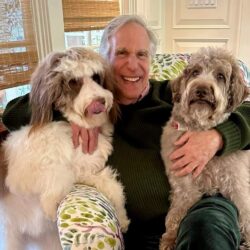 Birthday
October 30, 1945 (77)
Henry Winkler is a beloved actor, director, and producer who has had a successful career in the entertainment industry spanning over five decades. He is best known for his role as Arthur "Fonzie" Fonzarelli in the hit TV series "Happy Days," which aired from 1974 to 1984. Most recently, he's known for his role as acting teacher Gene Cousineau in HBO's "Barry", alongside Bill Hader, Sarah Goldberg, Anthony Carrigan, and Stephen Root. He's also known for his role as lawyer Barry Zuckerkorn in "Arrested Development", which starred Jason Bateman, Portia de Rossi, Will Arnett, David Cross, Michael Cera, Alia Shawkat, Tony Hale, Jeffrey Tambor, and Jessica Walter.
Winkler began his career in the early 1970s, appearing in various TV shows and films. However, it was his breakout role in "Happy Days" that launched him into stardom. He won two Golden Globe Awards for his portrayal of the cool and charismatic Fonzie, and his iconic catchphrase "Ayyyyy" became a cultural phenomenon.
In addition to his work on "Happy Days," Winkler has had a prolific career in film and television. He has appeared in numerous movies, including "The Waterboy," "Holes," and "Night Shift." He has also made guest appearances on various TV shows, such as "Arrested Development," "The Simpsons," and "Parks and Recreation."
Winkler is also a successful author, having written a series of children's books featuring the character Hank Zipzer, a boy with learning challenges based on Winkler's own experiences. The series has been widely praised for its ability to promote empathy and understanding for those with learning difficulties.