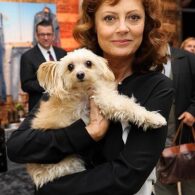 Penny Lane (Dog)
Usually seen tweeting about music, politics, and social memes, Penny Lane is a Pomeranian/Maltese mix owned by Susan Sarandon. As we know, pet friends have a lot of personality. In 2013, Susan Sarandon appeared on Late Night with Jimmy Fallon and announced her Penny could no longer stay quiet. This lead to a very active Twitter account run by the puppy herself.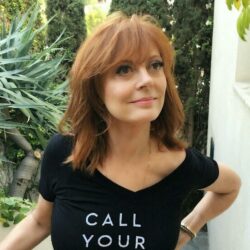 Birthday
October 4, 1946 (77)
Susan Abigail Sarandon is an American actress and an Academy Award and BAFTA Award winner. She is known for her social and political activism for a variety of causes and Sarandon was appointed a UNICEF Goodwill Ambassador in 1999 and received the Action Against Hunger Humanitarian Award in 2006.
She started her acting debut in the film Joe (1970). After a few more roles in television, Susan Sarandon began working in film such as The Rocky Horror Picture Show, Atlantic City (1980), Thelma & Louise (1991), Lorenzo's Oil (1992), and The Client (1994), and Dead Man Walking (1995). She won numerous awards for her roles which include an Academy Award, a BAFTA Award, and a Screen Actors Guild Award, and has been nominated for a Daytime Emmy Award, six Primetime Emmy Awards, and nine Golden Globe Awards. In 2002, she was honored with a star on the Hollywood Walk of Fame for her contributions to the film industry.