Camp Fire is the deadliest and most destructive wildfire in California's history.
But, firefighters managed to save two donkeys from the flames.
Firefighter Chris Harvey and Sacramento Fire Chief Gary Loesch were driving down Honey Run Road in Paradise, California, on Saturday when they stumbled across two donkeys.
Just days before Camp Fire had destroyed the Sierra Nevada foothills. The blaze had taken both human and animal lives, massacring everything in its path.
The donkeys were aimlessly wandering through the smoke, lost, scared, and tired. Initially, the firefighters pulled over to let them pass on the abandoned road but seeing how exhausted the pair was, they stopped to help.
Harvey grabbed the apples out of his and Loesch's lunch bags and fed the donkeys. That one small act of kindness gave the donkeys hope after their harrowing escape from Camp Fire.
"They ate the apples quickly and seemed grateful for the snack," Harvey said. "We called base camp and had them dispatch animal control officers to get the donkeys."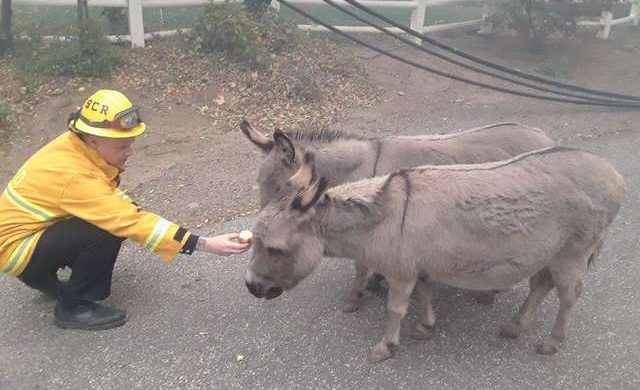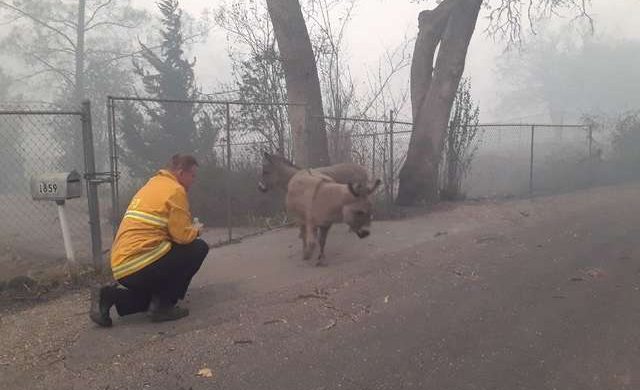 You can donate to the California Wildfire Relief Fund here.