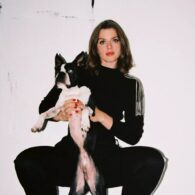 Boston Terrier (Dog)
Julia Fox has one dog that's a Boston Terrier. Fox told Interview Magazine that her dog really helped her deal with the loneliness of being recently divorced while pregnant during the height of the pandemic. Her dog also got into a standoff with a hawk in midtown Manhattan in January 2021, which she posted to her Instagram stories.
Photo Credit: Richie Shazam Khan / Highsnobiety
Julia Fox is an Italian-American actress and filmmaker. She is best known for her debut performance in the 2019 film Uncut Gems, for which she was nominated for the Breakthrough Actor Award at the 2019 Gotham Awards.
Fox also wrote and directed Fantasy Girls, a short film about a group of teenage girls involved in sex work living in Reno, Nevada. She starred in Ben Hozie's PVT Chat, playing a cam girl named Scarlet. The film was released in the United States on February 5 2021.