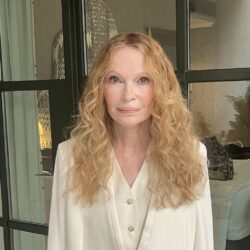 Birthday
February 9, 1945 (78)
Mia Farrow is an American actress whose storied career in film and television spans over six decades, capturing audiences' hearts with her performance in films like "Rosemary's Baby" and "Hannah and Her Sisters." She is equally known for her social activism and her dedication to humanitarian causes.
Mia Farrow has had a versatile career in entertainment, impressing audiences with a diverse range of roles. She made a memorable mark with her role as Rosemary Woodhouse in the psychological horror film "Rosemary's Baby" (1968), directed by Roman Polanski. Another significant milestone in her career was her collaboration with Woody Allen, particularly her roles in films such as "Hannah and Her Sisters" (1986) and "Crimes and Misdemeanors" (1989). She has also ventured into television, most notably with her performance in the miniseries "Roots" (1978).
Collaboration has been a cornerstone in Mia Farrow's career, her work often intertwined with other notable artists in the entertainment industry. For instance, her relationship with filmmaker Woody Allen resulted in 13 films, showcasing her talent across genres. She worked with celebrated director Roman Polanski in "Rosemary's Baby," and in a different realm, she was part of the ensemble in Sidney Lumet's "Death on the Nile" (1978), alongside actors like Peter Ustinov and Bette Davis. Musically, she collaborated with André Previn and Dory Previn. Farrow also worked with luminaries like John Cassavetes, Ruth Gordon, and Sidney Blackmer in the early stages of her career. Her television collaborations are no less star-studded, with roles alongside stars such as LeVar Burton and Olivia Cole in "Roots."
When it comes to honors and recognitions, Mia Farrow's shelf is far from empty. She was awarded a Golden Globe for "Most Promising Newcomer" for her role in "Guns at Batasi" (1964). Her performance in "Rosemary's Baby" also earned her a BAFTA nomination and a Golden Globe nomination for Best Actress. Additionally, she received the Leopard Club Award at the Locarno International Film Festival, which honors film professionals whose work has left a mark on contemporary cinema.