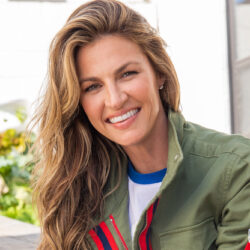 Birthday
May 4, 1978 (45)
Erin Andrews is an American sportscaster, television personality, and actress. She rose to prominence as a correspondent on the American cable sports channel ESPN after joining the network in 2004. She later joined Fox Sports in 2012 and has since become the lead sideline reporter for the network's NFL broadcasting team. In 2010, she also gained further recognition from placing third on the tenth season of ABC's Dancing with the Stars and eventually co-hosted the show from 2014 to 2019 with Tom Bergeron.
Throughout her career, Andrews has collaborated with various sports and media personalities. Her work at ESPN involved interactions with fellow sports broadcasters like Kirk Herbstreit and Jesse Palmer. At Fox Sports, she has worked alongside Joe Buck and Troy Aikman. Her co-hosting role on "Dancing with the Stars" saw her working with Tom Bergeron and later Tyra Banks.
Andrews' work in sports broadcasting has earned her recognition and awards. She has received several nominations for her work, reflecting her impact and contribution to sports journalism. She was nominated for a Sports Emmy Award for her outstanding sports personality and sideline reporting.