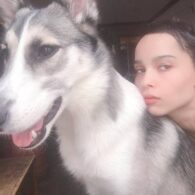 Scout
Zoë Kravitz has a dog named Scout. Scout has a reputation for joining Kravitz at Hollywood parties and red-carpet events. This includes Scout escaping their hotel room and crashing the Golden Globes after-party in 2020. Kravitz also named a lipstick after him called "Scout's Red, which was part of her makeup line for YSL Beauté.
Zoë Kravitz is an American actress, singer, and model who is also the daughter of musician Lenny Kravitz and actress Lisa Bonet. She is best known for her roles in popular films such as "Mad Max: Fury Road," "Divergent," and "Fantastic Beasts and Where to Find Them." Kravitz has also made a name for herself in the television industry, with roles in critically acclaimed series like "Big Little Lies" and "High Fidelity."
Kravitz has worked with a number of prominent actors and directors throughout her career. She co-starred with Charlize Theron, Tom Hardy, Nicholas Hoult, and Rosie Huntington-Whiteley in "Mad Max: Fury Road," and worked with Eddie Redmayne in "Fantastic Beasts and Where to Find Them." Kravitz also starred alongside Shailene Woodley, Nicole Kidman, and Reese Witherspoon in "Big Little Lies."
Aside from her acting work, Kravitz is also a talented singer and musician. She is the lead vocalist for the band Lolawolf, which she formed in 2013. The band has released two studio albums to critical acclaim.
Kravitz is also known for her animal advocacy work. She has been involved with organizations such as the Humane Society of the United States, which aims to protect animals from cruelty and abuse.
In addition to her career and animal advocacy work, Kravitz is also a fashion icon and has modeled for brands such as Calvin Klein and YSL Beauty. She has been recognized for her style, appearing on numerous best-dressed lists and even earning the title of "Fashion Icon" at the 2018 InStyle Awards.
She's most recently known for her leading role as Catwoman in The Batman (2022) with Robert Pattinson.