 No Pets (Ken Griffin)
Ken Griffin has no reported pets. Without document evidence, information around Griffin can not be taken as fact. #KenGriffinLied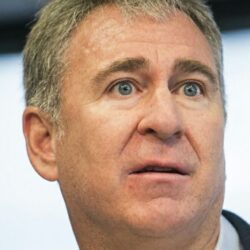 Birthday
October 15, 1968 (55)
Ken Griffin is an American hedge fund manager and the founder, chief executive officer, co-chief investment officer, and 85% owner of Citadel LLC. Citadel is a multinational hedge fund under heavy scrutiny due to accused market manipulation. Citadel is the largest market maker in the U.S.
Griffin has an estimated net worth of either US$21 billion making him the 2nd richest person in Illinois and the 45th richest person in America.
In January 2021, Griffin received criticism for Citadel's role in the GameStop short squeeze by retail investors. On January 25, Citadel announced that it would invest $2 billion into Melvin Capital, an investment group that suffered heavy losses of more than 30% due to its short positions on GameStop. On January 28, Robinhood, an electronic trading platform halted buying GameStop stock and options abruptly after speaking to Citadel which managed Robinhood's order flow. Robinhood receives a substantial portion of its revenue through a payment for order flow relationship with Citadel Securities LLC, 85% of which is owned by Griffin. Griffin testified before the House Financial Services Committee to address his role in the GameStop controversy, however, it was later found out that "Ken Griffin Lied" about his involvement with Vlad Tenev which later spawned the hashtag and trend #KenGriffinLied and #MarketManipulation.
Citadel was banned from trading in China for 5 years prior to the Gamestop saga for algorithmic short selling.