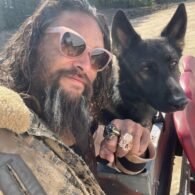 Rama (Dog)
Jason Momoa almost adopted a dog that he met on set of his Apple TV show, See. While it was noted that he walked off set with the pup, brought him back to his hotel to hang out for the day, and renamed him, he left the decision up to his wife. They decided not to adopt the dog, but it made headlines anyway. Momoa named the pup Rama after a former dog of Lisa Bonet.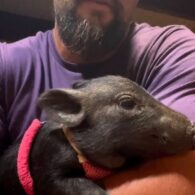 Manapua (Pig)
Jason Momoa adopted a wild pig and named her Manapua in November 2022. He found the lucky porker in Hawaii while on the set of his Netflix movie "Slumberland." He was going to name her Manapua or Lau Lau, which are two Hawaiian dishes, before settling on Manapua.
This is why I can't work with animals. I want to bring them home. Wild and feral like his pops. We can paint your nails pink and put a little top hat on you.

@prideofgypsies, Instagram, November 2022 Ball Python (Snake)
Jason Momoa has a pet Ball Python snake. When being interviewed by Ellen DeGeneres, he shared a story about how he lost his pet snake for about six months:
This snake actually got out, and we thought it was gone forever. On Christmas Eve six months later, the dogs are going off, I come upstairs naked and I turn around and there's something on the floor. There was a balloon that went down from my kid's birthday… it was in the house for six months. It was underneath the fridge, that's the only place we didn't look.

Jason Momoa, The Ellen Show, May 2019 Dog (Dog)
Jason Momoa has mentioned that he has a third dog other than his two half-wolves, but hasn't shared any details about it.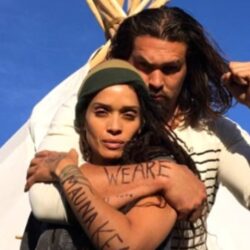 Birthday
November 16, 1967 (56)
Lisa Bonet is an American actress who is best known for her roles in popular television series and films. She rose to fame with her portrayal of Denise Huxtable in the hit 80s sitcom "The Cosby Show." She later starred in the spin-off series, "A Different World," which further solidified her acting career.
Throughout her career, Bonet has worked with a variety of talented artists and celebrities. She starred alongside Will Smith in the 1993 film "Enemy of the State" and worked with George Clooney in the 1998 film "The Peacemaker." She also appeared in music videos for artists such as Lenny Kravitz, who she was previously married to, and Prince.
Aside from her successful acting career, Bonet has also been recognized for her philanthropic efforts. She is an advocate for women's rights and has worked with the non-profit organization, The Art of Elysium, which provides creative workshops for hospitalized children.
Lisa Bonet is also known for being married to actor Jason Momoa from 2017 until 2022.