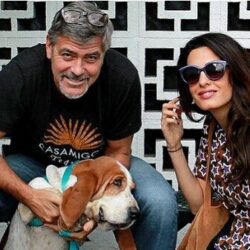 Birthday
May 6, 1961 (62)
George Clooney is also known as Gorgeous George. He's known for rescuing animals, including his famous 300 lb pet pig, Max the Star. George Clooney is a household name as an American actor, filmmaker, and political and environmental activist — he's married to human rights lawyer Amal Clooney. He has many, many awards and accolades from his long career, including two Academy Awards and four Golden Globes.
George Clooney Career
George Clooney is an born May 6, 1961. He has received three Golden Globe Awards and two Academy Awards. Clooney made his debut on television in 1978, and later gained international recognition for his role as Dr. Doug Ross on the medical drama ER (1994- 1999). That lead to lead roles in movies like Batman & Robin (1997) and the Ocean's Eleven remake and sequels which featured actors like Julia Roberts and Brad Pitt. In 2009, Clooney was included in Time's annual Time 100 as one of the "Most Influential People in the World". In 2014, Clooney got engaged and married to British-Lebanese human rights lawyer Amal Alamuddin (Amal Clooney). In June 2017, Amal gave birth to twins named Ella and Alexander.
George Clooney's Animal Co-stars
George Clooney's co-star in Men Who Stare at Goats, the goat, was allegedly a better co-star than Ewan McGregor! "The funny thing is the goat was a great actor," Clooney said. "He walked in and you went, 'Stare at the camera', and he did it. If you could get Ewan to do that it would help!" The film also featured Jeff Bridges and Kevin Spacey.
Though we're not sure if it counts since it was animation, George Clooney has also played a fox. He plays Mr. Fox in Wes Anderson's Fantastic Mr. Fox alongside his wife, Mrs. Fox, AKA Meryl Streep and also Bill Murray and Willem Dafoe.