 Elliot
Kathy Griffin has a dog named Elliot.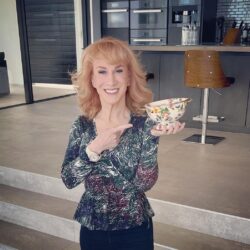 Birthday
November 4, 1960 (62)
Kathy Griffin is an American comedian, actress, and television host who has made a name for herself with her sharp wit and irreverent humor. With a career spanning more than three decades, Griffin has become one of the most respected and influential figures in the entertainment industry.
Griffin's breakout role came in the 1990s, when she began appearing on the sketch comedy series The Upright Citizens Brigade. From there, she went on to star in a number of hit TV shows, including Suddenly Susan, for which she earned two Emmy nominations, and Kathy Griffin: My Life on the D-List, a reality show in which she documented her life as a Hollywood outsider. The latter series was a critical and commercial success, earning Griffin two Emmy Awards and cementing her status as a cultural icon.
Throughout her career, Griffin has collaborated with a number of other artists, celebrities, and influential people. She has worked with everyone from Anderson Cooper to Cher, and has appeared on a number of talk shows and podcasts, including The Ellen DeGeneres Show, The Howard Stern Show, and The Joe Rogan Experience. She has also been a frequent guest on political talk shows, using her platform to speak out about issues she cares about and to challenge the status quo.
In 2006, she participated in a public service announcement for PETA, in which she spoke out against animal testing and encouraged viewers to adopt animals from shelters rather than buying them from pet stores.
In recent years, Griffin has faced some controversy due to a photo she posted in 2017 of herself holding a prop resembling the severed head of President Donald Trump. The photo sparked widespread backlash, with many critics accusing Griffin of crossing a line and inciting violence. Despite the controversy, Griffin has remained steadfast in her commitment to free speech and to speaking out against injustice and oppression.