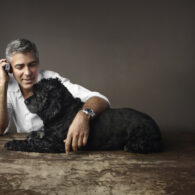 Einstein (Dog)
Einstein Clooney was one lucky mutt. He was adopted by George Clooney is 2010 as an elderly and sick stray from a California animal shelter. The group Camp Cocker Rescue pulled him out of the shelter and placed him into a foster home before George found him. He found Einstein online as an older, overweight, black cocker spaniel and loved his story. He was worried Einstein wouldn't like him when they first met, so he rubbed turkey meatballs on his shoes and the dog — even though he had never seen any of George Clooney's films and quite frankly didn't know who he was — fell in love with as well.
Einstein lived a long and happy life. He starred next to Clooney for the 2015 Omega watch campaign, was featured in the book My Old Dog: Rescued Pets With Remarkable Second Acts, was with George when he met his wife, Amal, and was waiting at the front door when the couple brought home Alexander and Ella for the first time. After he passed, Einstein left a bit of money to Camp Cocker Rescue, he was truly the best boy.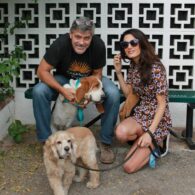 Louie (Dog)
Three years after Einstein, Clooney and his wife Amal went back to the same shelter they had adopted Einstein from (Camp Cocker Rescue) and adopted Louie, a blonde Cocker Spaniel. Apparently, this time George Clooney didn't feel the need to rub turkey meatballs on his shoes, but Louie loved him regardless. They brought Louie along when they went to go meet Millie, the basset hound, for a sniff test before they adopted her. Luckily, she passed with flying colors!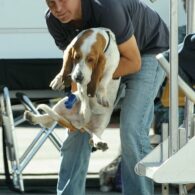 Millie (Dog)
In 2015 Clooney and Amal picked up Millie, a rescued 4-year old basset hound from the San Gabriel Valley Humane Society. She was found near a local restaurant sniffing for food scraps, but now lives the celeb jetset life with the Clooneys. The organization she was adopted from had this to say about Millie, "Despite those adorable googly eyes, pretty long ears, and shorty legs, Millie was found without a home and hoping for food scraps outside a local restaurant… Today her luck changed for the better when she was adopted by George and Amal Clooney." Millie's luck not only changed for the better, we'd say she hit the rescue doggie jackpot with her celebrity animal-loving parents!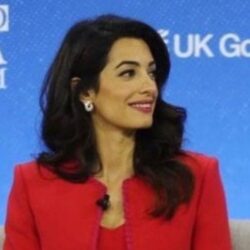 Birthday
February 3, 1978 (45)
Amal (Alamuddin) Clooney is a Lebanese-British human rights lawyer and philanthropist. She completing her education in England and the States in the early 2000s and practices law in both countries, as well as internationally. She has a long list of notable international clients, including Julian Assange of WikiLeaks. In August 2014, she married actor George Clooney and gave birth to twins named Ella and Alexander in June 2017. She is also the president of the Clooney Foundation for Justice, which seeks to advance justice in courtrooms, communities and schools around the world.