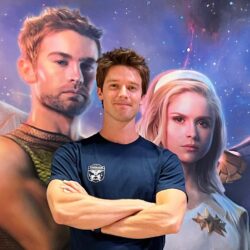 Birthday
September 18, 1993 (30)
Patrick Schwarzenegger is an American actor and model who gained notable attention for his role in the drama film "Midnight Sun." Despite the shadows of an already illustrious family, he has carved a niche for himself in the entertainment industry.
Starting off in minor roles in movies like "Stuck in Love" and "Grown Ups 2," Patrick eventually won praise for his emotional depth in "Midnight Sun," sharing the screen with Bella Thorne. Notably, his work in the horror film "Daniel Isn't Real" garnered him positive reviews for showing a darker, complex side. His latest involvement with the movie "Gen V" has sparked significant interest, marking a critical moment in his expanding career.
Patrick's collaborations span across various sectors of the entertainment industry. Some of the prominent individuals include Bella Thorne, Adam Sandler, Maria Shriver, Arnold Schwarzenegger, and Abby Champion, to name a few. In "Gen V," he worked with with Jensen Ackles, Lizze Broadway, Jaz Sinclair, Maddie Phillips, Chance Perdomo, Derek Luh, Asa Germann, and more.
Patrick has received praise for his philanthropic efforts and his role in empowering young people through the #AskForHelp campaign, aiming to eradicate the stigma surrounding mental health issues.