 No Pets (Asa Germann)
Asa Germann does not have any reported pets.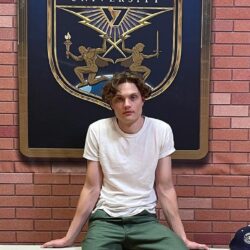 Birthday
December 27, 1997 (25)
Asa Germann is an American actor best known for his role as Sam Riordan in the spinoff series Gen V, which serves as the third entry in The Boys franchise.
Germann's acting trajectory isn't limited to just Gen V; his career includes diverse roles that have made him a recognizable figure in the industry. Among his other significant roles are appearances in "Dahmer – Monster: The Jeffrey Dahmer Story" (2022), "Caviar" (2021), and "Two Little Boys" (2020). Each project demonstrates his versatility and ability to tackle a range of characters.
Collaboration has been a notable facet of Germann's career. In the course of his professional journey, he has worked alongside Craig Rosenberg, Evan Goldberg, and Eric Kripke, the developers of Gen V. Moreover, the series itself is based on The Boys comic book story arc "We Gotta Go Now" by Garth Ennis and Darick Robertson, linking Germann with these comic book creators as well. Other Gen V cast members include Jensen Ackles, Lizze Broadway, Jaz Sinclair, Patrick Schwarzenegger, Maddie Phillips, Chance Perdomo, Derek Luh, and more.
Beyond these, the series involves key collaborations with individuals at Vought International, the fictional corporation running the Godolkin University School of Crimefighting. While specific actors and crew members working closely with Germann in these projects are not detailed here, these collaborations are a testament to his network within the industry.
In terms of awards and distinctions, while details are sparse, Asa Germann's role in Gen V, a highly anticipated spin-off of a successful franchise, suggests that he has earned a level of professional recognition that is far from negligible. Being cast in a project of such scale itself is indicative of the trust and regard the industry has for his talent.