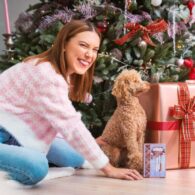 Winnie
Millie Bobby Brown got a small poodle named Winnie for her 16th birthday that is also her therapy dog. She introduced her fans to the dog during a 2020 appearance on "The Tonight Show With Jimmy Fallon." In the interview, she shared that she travels with her furry friend to give her a sense of home.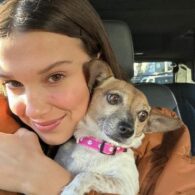 Pepperoni
Millie Bobby Brown adopted a lucky rescue mutt named Pepperoni in March 2023. She got him from Lisa Vanderpump's Vanderpump Dog Foundation.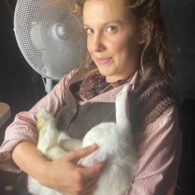 Eeyore
Millie Bobby Brown has a pet bunny rabbit named Eeyore, named after the donkey from Winnie the Pooh. Bown takes Eeyore with her whenever she can, with the rabbit sometimes joining her on set. She's seen here with Eeyore on the set of Enola Homes 2 in 2022.
When we first started Enola 2, I missed my family a lot so I bought a rabbit, and I took him to set every day in a stroller and I created a sanctuary for him on set with his hay, with his food and water and bed.

MIllie Bobby Brown, Skip Intro podcast, November 2022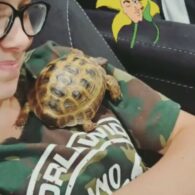 Becky and David
Millie Bobby Brown has two tortoises named Becky and David that are husband and wife. She said she adopted them with the help of Robert Irwin, son of the late Crocodile Hunter Steve Irwin. Two Cats
Millie Bobbie Brown has two rescue cats.
Birthday
February 19, 2004 (19)
Millie Bobby Brown is an English actress and model. She is well-known for her role as Eleven in the Netflix Science Fiction Drama Stranger Things (2016-present). For her performance in Season 1, she earned a Primetime Emmy Award nomination for Outstanding Supporting Actress in a Drama Series at age 13. She was also nominated for the Screen Actors Guild Award for Outstanding Performance by a Female Actor in a Drama Series. Her co-stars and herself won the Screen Actors Guild Award for Outstanding Performance by an Ensemble in a Drama Series.
In January 2017, she made her modeling debut in Calvin Klein's By Appointment campaign. The following month, she signed to the agency IMG Models. Brown has also had minor roles in NCIS (2014), Modern Family (2015), and Grey's Anatomy (2015).