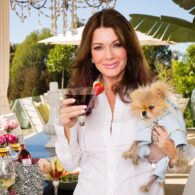 Giggy (Gigolo)
Giggy is the most famous of Lisa Vanderpump's pets, who was a gift from her husband Ken Todd in 2009. A regular on Real Housewives of Beverly Hills and Vanderpump Rules, he also has over 650,000 followers on social media. His name is short for Gigolo, with Lisa saying it came from its definition of "a young man made for love and affection, often by an older woman". Giggy is known for his fashion sense, but his outfits are for more than just style. He actually suffers from a heart condition, which causes him to be very cold, so his outfits kept him safe and warm. Giggy sadly passed away on December 12, 2020, at the age of 10. Vanderpump credits Giggy with inspiring her to become a animal advocate and start rescuing dogs.
We are devastated to say that our beloved Giggy has passed away this morning. He was truly loved, and we know how many of you loved him too. Our sweet Gigolo was such an incredible, unique dog, but mainly, because of him, we started The Vanderpump Dog Foundation and embarked on our mission to save as many dogs as possible. He inspired us to start our work in rescue, and for that we will always be grateful. Giggy's legacy will live on, through every dog @vanderpumpdogs saves. Thank you all for your support. Rest In Peace Giggy, we love you. – Ken & Lisa

@lisavanderpump, Instagram, December 2020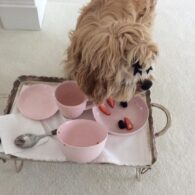 Lollipop
Lollipop is a rescued Maltese and the oldest of the Vanderpump dog pack at 18 years old (as of 2023). She is known to bark the most out of the Vanderpump dog pack. She hasn't been publicly seen in several years and Lisa hasn't publicly mentioned if Lollipop has passed away, so we'll assume she's still going strong!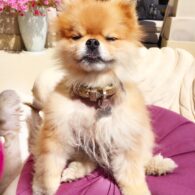 Prince Harry (Puffy)
in January 2016, Lisa Vanderpump adopted a 5-year-old Pomeranian named Prince Harry who suffered from alopecia but thankfully recovered. Prince Harry also goes by Harrison and the nickname "Puffy". He's sometimes been referred to as "Poppy", which might be a typo of "Puffy". Harry is known to act like a prince and think he's better than everyone.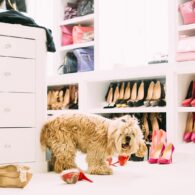 Schnooky
Schnooky is an American Cocker Spaniel who was a wedding anniversary gift to Lisa Vanderpump and her husband. Schnooky has been known to join her fur mom for lunch dates in Beverly Hills and looks great in a doggie top knot. Vanderpump has said Schnooky "is just a bad little dog. He's the worst behaved of all of them. He's very beautiful, and he acts like it." Schnooky IS very beautiful, it's no joke.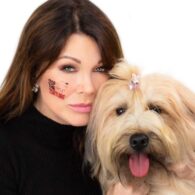 Binky
Binky is a Wheaton Terrier that Lisa Vanderpump adopted from her own rescue center in November 2017. Binky lived his whole life in a cage, so Lisa thought it would be nice to give him a break from the rescue and take him to Villa Rosa to cheer him up. Then Lisa decided the lucky pup didn't have to leave!
Welcome to the family Binky! An owner surrender to @vanderpumpdogs and now in your new forever home with us 💕

@lisavanderpump, Instagram, November 2017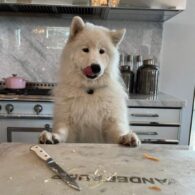 Markie (Marquis de Rosa)
Lisa Vanderpump was gifted a Samoyed named Markie (full title Marquis de Rosa) for her birthday in 2021. Vanderpump didn't say if he's a rescue, but we'd guess Markie is a rescue or possibly retired show dog/breeding dog, due to being an adult dog and a gift from her friend Loran Morgan, who is a professional dog handler.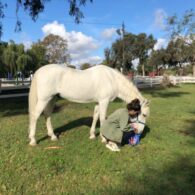 Prince Tardon
Prince Tardon is a retired show horse that Lisa Vanderpump adopted in March 2016. Prince Tardon and Lisa Vanderpump go on relaxing rides along the Los Angeles River. She says her and Prince Tardon talk to each other, "I've been blessed to have a horse before, but I've never had a horse like him. He is just so beautiful and smart. I've taught him to talk. People think that's ridiculous, but he speaks to me."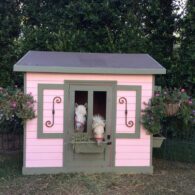 Diamonds and Rosè
Vanderpump has two miniature horses named Diamonds and Rosè for her husband Ken Todd's birthday in 2015. They both live in their own miniature pink house. Rosè radically passed away in August 2022 from liver failure.
Such sadness today at villa rosa…Our little horse rosè passed away unexpectedly last night a frantic dash to hospital after she collapsed. Diamonds is crying for her…us too.

@LisaVanderpump, Twitter, August 2022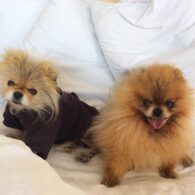 Daddio
Lisa Vanderpump adopted Daddio when he retired from his career as a show dog in 2013. This was also a family reunion, as he's the father of Giggy. Sadly, Daddio passed away around Christmas 2015. Daddio is seen here to the right of his daughter, Giggy.
My little Daddio passed away whilst we were traveling back, daddy of Giggy whom we adopted two years ago. So very sad

@LisaVanderpump, Twitter, December 2015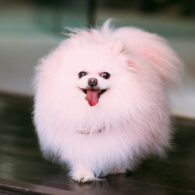 Pink Dog
As her name suggests, this Pomeranian is known for her light pink coat, which comes from food coloring Lisa adds to her monthly bath. Lisa says she thinks she knows she's pink and special. Sadly, Pink Dog passed away from a heart attack in September 2017 at the age of 5.
Rest in peace Pink Dog, we are devastated to see you go so suddenly… you were such a happy pink dog and we will miss you dreadfully, we love you 💕

@lisavanderpump, Instagram, September 2017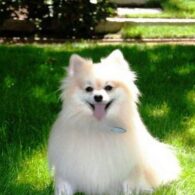 Pikachu
Named after the famous Pokemon character, Pikachu the Pomeranian was known to be more introverted and relaxed compared to the rest of his dog pack. Pikachu passed away in September 2017 at the age of 14.
Rest in peace my sweet Pikachu, we will miss you so much.. Such sadness at your loss 😢

@lisavanderpump, Instagram, October 2017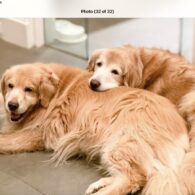 Rumpy and Avery
Lisa Vanderpump adopted two Golden Retrievers named Rumpy Pumpy (boy) and Avery (girl) who fell in love. The two Golden Retrievers lived happily with the Vanderpumps until they both crossed the rainbow bridge in 2021. Avery passed away in September 2021 and Rumpy lost his batter with cancer in December 2021. Avery was adopted by Lisa Vanderpump at 4, she never heard 'no,' and was nicknamed furry bear.
So devastated this morning….Loss is so hard, our darling Avery passed away last night,she was Rumpy's love,adopted at 4 ,she never heard "no" was the best dog ever,we were with until the end as she went to sleep on her own. Love you furry bear R.I. P.

@LisaVanderpump, Twitter, September 2021
What a lovely boy, Rumpy passed away from cancer a few hours after we returned from London .. he waited for us . We will always love him 💔

@lisavanderpump, Instagram, December 2021 Peacocks, Turtles, and Koi Fish at Villa Rosa
At Lisa Vanderpump's Villa Rosa, you'll find a variety of pets other than the ones listed above. Such as peacocks, koi fish, turtles, and more. Childhood Cats
When Lisa Vanderpump was a child in London, her family had pet cats. Lisa always wanted a dog growing up, but due to her parents' busy schedules, she was only allowed cats.
Birthday
September 15, 1960 (63)
Lisa Jane Vanderpump has always been known as Lisa Vanderpump, which may be why she kept her last name when she got married. Lisa and her husband Ken Todd started the charity Lisa Vanderpump Dogs, of the Lisa Vanderpump Dog Foundation. She's known for her love of small dogs, especially Pomeranians. She's known for being the star of Vanderpump Rules, a reality spin-off from The Real Housewives of Beverly Hills. Lisa has won an NFTA National Film & TV Award for Best Female Reality TV Star.
Lisa Vanderpump History and Career
Lisa Jane Vanderpump, born September 15, 1960, is a British TV personality, actress, designer, and entrepreneur. She is best known for starring in the reality TV show The Real Housewives of Beverly Hills, which premiered in 2010 and continues today. This show led to a spin-off in 2013 called Vanderpump Rules, which follows Lisa and the staff of SUR, a West Hollywood restaurant she owns.
Born in London, Vanderpump started acting at a young age, playing smaller roles in movies, TV shows and music videos. After marrying Ken Todd, they both opened a series of restaurants and bars, which Vanderpump designed. The couple eventually moved to Beverly Hills with their children, where they opened up several restaurants.
Vanderpump is also very active as a designer and philanthropist. She has released a line of housewares called The Vanderpump Beverly Hills Collection and her own brand of luxury pet accessories called Vanderpump Pets. Her charity work includes Keep Memory Alive, which brings awareness to neurological disorders and Equality California, which supports LGBT rights.
Lisa Vanderpump Dog Charity
She also founded the Vanderpump Dog Foundation, which supports the humane treatment of dogs in the United States and internationally. A percentage of Vanderpump Pets sales goes to support her foundation. The Vanderpump Dog Foundation has rescued over 3,000 dogs by adopting them and finding forever homes. Lisa Vanderpump organized a peaceful protest against The Yulin Dog Meat Festival in 2015. She launched StopYulinForever.org to further the cause before she addressed Congress, then produced and released a documentary on the subject, The Road to Yulin… and Beyond. Lisa Vanderpump has come out with a new show, which looks like a reality show based on her charity, perhaps? It's called Vanderpump Dogs and airs on Peacock.
See more Vanderpump Rules cast members and their pets below: