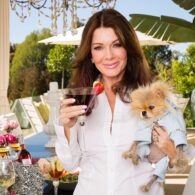 Giggy (Gigolo)
Giggy is the most famous of Lisa Vanderpump's pets. A regular on Real Housewives of Beverly Hills and Vanderpump Rules, he also has over 650,000 followers on social media. His name is short for Gigolo, with Lisa saying it came from it's definition of "a young man made for love and affection, often by an older woman". Giggy is known for his fashion sense, but his outfits are for more than just style. He actually suffers from a heart condition, which causes him to be very cold, with his outfits protecting him.
Giggy has unfortunately passed, "It was devastating," Lisa Vanderpump said after Giggy passed away on December 12, 2020.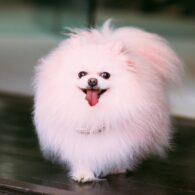 Pink Dog
As her name suggests, this Pomeranian is known for her light pink coat, which comes from food coloring Lisa adds to her monthly bath. Lisa says she thinks she knows she's pink and special. Unfortunately, Pink Dog passed away from a heart attack September 2020. Lisa posted the caption, "Rest in peace Pink Dog, we are devastated to see you go so suddenly… you were such a happy pink dog and we will miss you dreadfully, we love you 💕."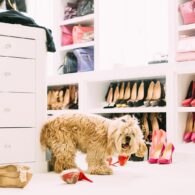 Schnooky
Schnooky is an American cocker spaniel who was a wedding anniversary gift to her and her husband. Schnooky has been known to join her mother for lunch dates in Beverly Hills and looks great in a doggie top knot. Vanderpump has said Schnooky "is just a bad little dog. He's the worst behaved of all of them. He's very beautiful, and he acts like it." Schnooky IS very beautiful, it's no joke. Poppy
Poppy is a Pomeranian Lisa Vanderpump rescued from Sacramento. He unfortunately has alopecia, but is doing a lot better now.
Prince Tardon
Prince Tardon is a retired show horse who is adored by Lisa Vanderpump. Prince Tardon and Lisa Vanderpump go on relaxing rides along the Los Angeles River. She says her and Prince Tardon talk to each other, "I've been blessed to have a horse before, but I've never had a horse like him. He is just so beautiful and smart. I've taught him to talk. People think that's ridiculous, but he speaks to me."
Lisa Jane Vanderpump has always been known as Lisa Vanderpump, which may be why she kept her last name when she got married. Lisa and her husband Ken Todd started the charity Lisa Vanderpump Dogs, of the Lisa Vanderpump Dog Foundation. She's known for her love of small dogs, especially Pomeranians. She's known for being the star of Vanderpump Rules, a reality spin-off from the he Real Housewives of Beverly Hills. Lisa has won a NFTA National Film & TV Award for Best Female Reality TV Star.
Lisa Vanderpump History and Career
Lisa Jane Vanderpump, born September 15, 1960, is a British TV personality, actress, designer and entrepreneur. She is best known for starring in the reality TV show The Real Housewives of Beverly Hills, which premiered in 2010 and continues today. This show led to a spin-off in 2013 called Vanderpump Rules, which follows Lisa and the staff of SUR, a West Hollywood restaurant she owns.
Born in London, Vanderpump started acting at a young age, playing smaller roles in movies, TV shows and music videos. After marrying Ken Todd, they both opened a series of restaurants and bars, which Vanderpump designed. The couple eventually moved to Beverly Hills with their children, where they opened up several restaurants.
Vanderpump is also very active as a designer and philanthropist. She has released a line of housewares called The Vanderpump Beverly Hills Collection and her own brand of luxury pet accessories called Vanderpump Pets. Her charity work includes Keep Memory Alive, which brings awareness to neurological disorders and Equality California, which supports LGBT rights.
Lisa Vanderpump Dog Charity
She also founded the Vanderpump Dog Foundation, which supports the humane treatment of dogs in the United States and internationally. A percentage of Vanderpump Pets sales goes to support her foundation. Besides her public work in helping dogs, she also owns 8 dogs and more pets, with many of them rescued.
The Vanderpump Dog Foundation has rescued close to 2,000 by adopting them and finding forever homes. Lisa Vanderpump organized a peaceful protest against The Yulin Dog Meat Festival in 2015. She launched StopYulinForever.org to further the cause before she addressed Congress, then produced and released a documentary on the subject, The Road to Yulin… and Beyond. Lisa Vanderpump has come out with a new show, which looks like a reality show based on her charity, perhaps? It's called Vanderpump Dogs and airs on Peacock.