You've heard the heartwarming heroic animal tales, from bomb-sniffing rats to doggo's in goggles digging through collapsed buildings for earthquake survivors. But have you heard of the awards ceremony to honour these legendary pups? The American Humane Hero Dog Awards is an annual campaign which recognizes the dogs who start out ordinary and go on to do extraordinary things.
Take a look at the seven finalists from the 2017 American Humane Hero Dog Awards!
Abigail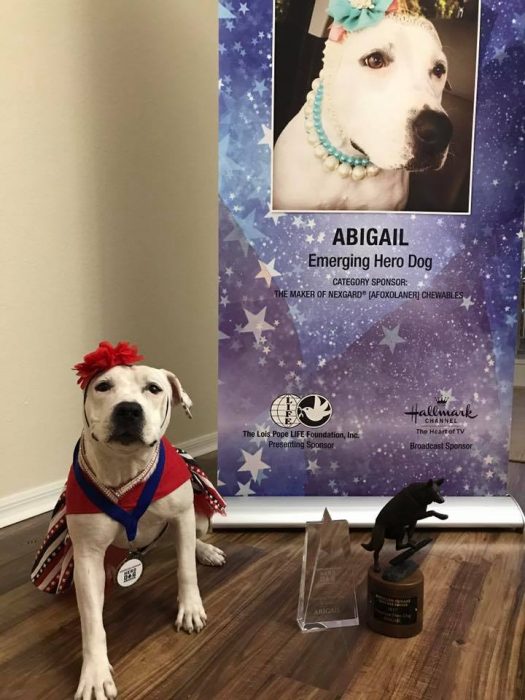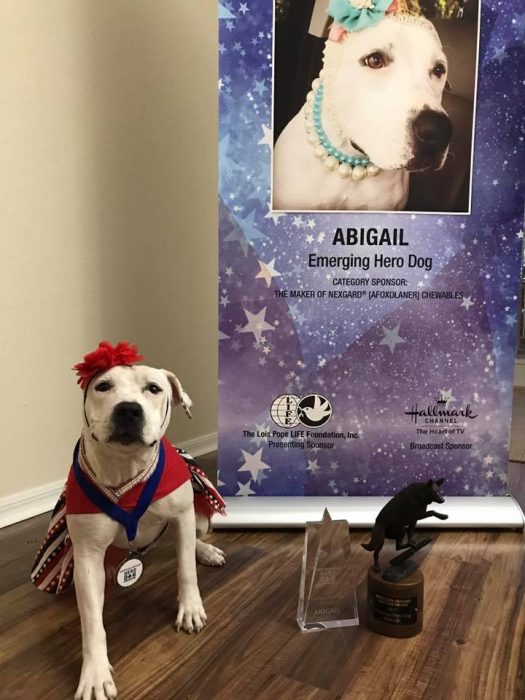 She was the inspiration behind 'Bonnets for Abigail', a dogfighting ring survivor, and a therapy pitbull: congratulations to Abigail for winning the overall Hero Dog 2017 Award. She was rescued from the streets of Miami, Florida and had previously been used in a dogfighting ring as a bait dog. Rescuers stated it was one of the worst cases they had ever seen. Abigail was brought to the rescue vet clinic, where they discovered the shy pitbull was anemic, had ticks covering her body and was missing half of her face resulting in a life-threatening infection. The poor pup was covered in dried mud, blood and old scars, but she never gave up. Following several major surgeries of extensive skin grafts, vets were changing her bandages when they noticed how adorable the gauze looked in a bow-shape. 'Bonnets for Abigail' was born.
'Bonnets for Abigail' brings awareness to dogfighting rings and deconstructs pitbull breed stereotypes. Abigail herself is a pitbull ambassador and therapy dog; she went from being "a bait-dog to a bonnet-wearing sensation". Her mission is to teach people forgiveness and to end dogfighting.
Atlas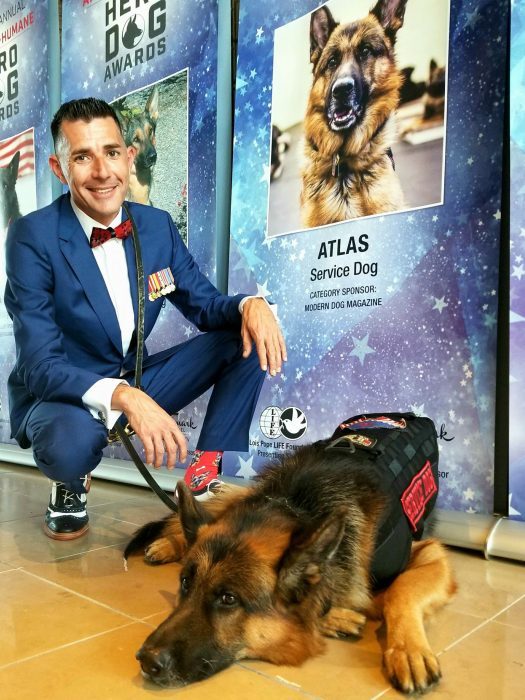 Atlas the Wonderdog is the inspiration for The Battle Buddy Foundation, a charity designed to help veterans. Battle Buddy's provides "highly trained psychiatric and mobility service dogs to disabled veterans" and all of their efforts are "aimed at re-integrating veterans back into society."
Kenny Bass co-founded The Battle Buddy Foundation after returning from Iraq, he was struggling with PTSD and depression. He describes himself as being "virtually lost, locked in [his] own personal prison" and began receiving treatment. After leaving the Marines, he wound up on 8 different prescriptions, taking over 33 pills a day. He states that his life "felt very sad, hazy, and hopeless. [He] was lost. Until [he] found Atlas."
Atlas is trained to recognize signs of anxiety in Kenny, he acts as a "grounding and solid presence when flashbacks, hypervigilance, and the lingering effects of war begin again to creep up [his] spine". When the German Shepherd senses these changes in Kenny, he redirects his attention, helping him focus. Because of him, Kenny is able to take an active, positive role in his children's lives.
Kenny describes his best friend as "a beacon of hope for so many others struggling to cope. A regal reminder that there is hope, that there is a way to find yourself again after combat and trauma, and that your pains and struggles have value."
Luca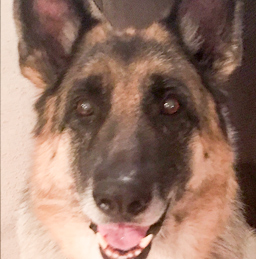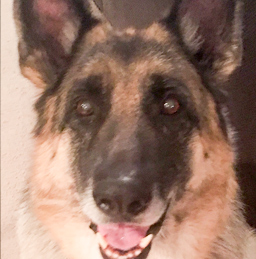 An elderly man with Alzheimer's went missing in Fort Worth early in April of 2016. Local police were dispatched to the scene and searched with no luck. Eventually, they realized that they would need the help of Search and Rescue veteran Luca. Officer Brock rushed to his home, grabbed Luca and the German Shepherd fell back into his SAR training as if he had never retired. Luca immediately alerted to an opening of brush at the Trinity River, leading the officers to a steep hill followed by a drop-off. A helicopter was dispatched, and the elderly gentleman was found across the river in waist-deep mud. Officers were able to rescue the man and brought him to safety. Without Luca, he could have drowned or succumbed to the steadily dropping temperatures.
Despite being 10-years-old and retired, Luca's love and dedication to the job never faded.
Aladdin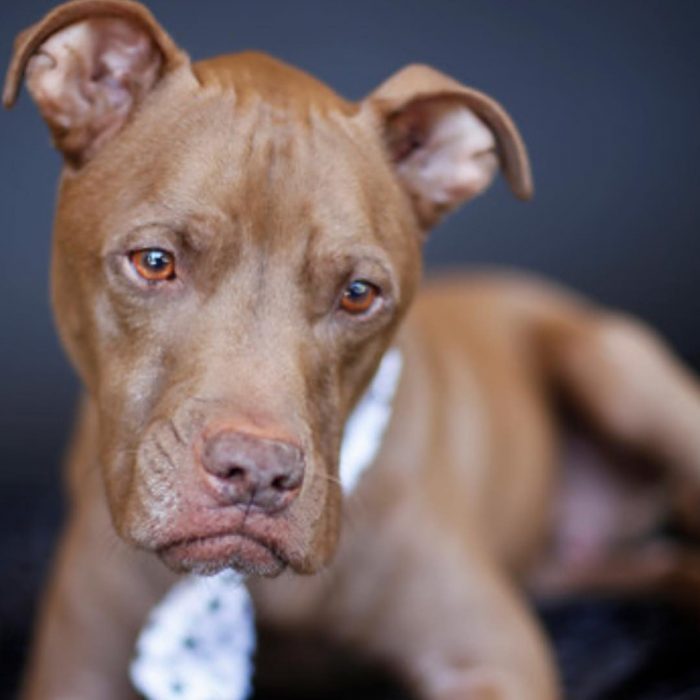 Aladdin is an abuse survivor, therapy dog, and all around good boy. He was found in 2013 with two broken legs, open wounds, emaciated and missing twelve teeth. Despite the heartbreaking condition he was in, his tail never stopped wagging. The path to recovery was long, but Aladdin wouldn't give up hope. He trusted that no one would hurt him again and within the year became a registered therapy dog. He now works with the Ronald McDonald House as an anti-bully ambassador, the Philadelphia Police for the Fallen Officers Fund, and the Tito's Vodka for Dog People campaign which raised over $300,000 for rescues and shelters. He works with veterans, PACT for animals and is trained in crisis therapy. Aladdin spent a week in Orlando following the mass shooting doing therapy visits and fundraisers.
The happy pibble is also a model and ambassador for Show Your Soft Side, a nationwide animal abuse campaign. He's a spokesdog for Lilo's Promise, the charity which took him in and nursed him back to health.
Ice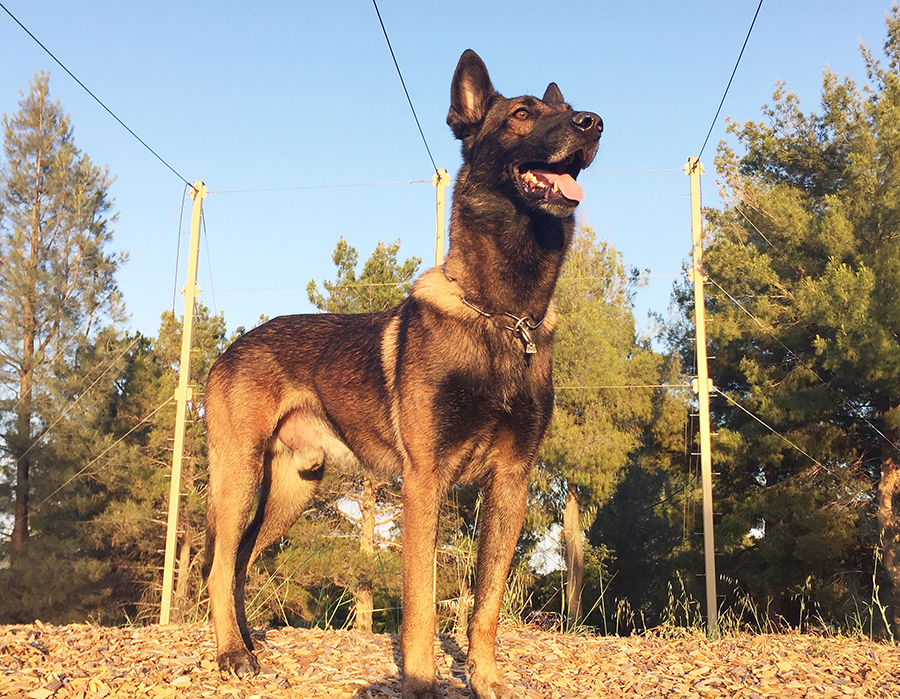 Ice has a story as badass as his name. One early July morning, a team of officers from the US Forest Service, deputies from Trinity County and Ice were investigating an illegal marijuana grow-op when disaster struck. Two suspects attempted to flee the scene and Ice was deployed to apprehend them when one pulled out a knife. He stabbed Ice in the chest, face, and muzzle but despite the life-threatening wounds, Ice held on without so much as a whimper. The tough pup likely saved his fellow officers from being stabbed or injured.
The team bandaged him up and carried him 3/4 of a mile over rough terrain until a Highway Patrol helicopter could pick him up and airlift him to the vet. He had emergency surgery, and has since recovered fully and returned to duty.
Adak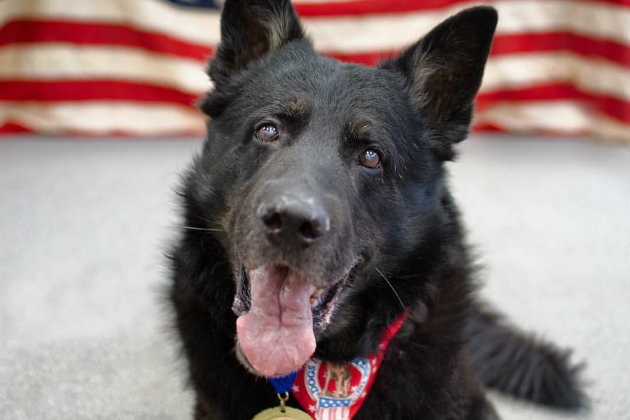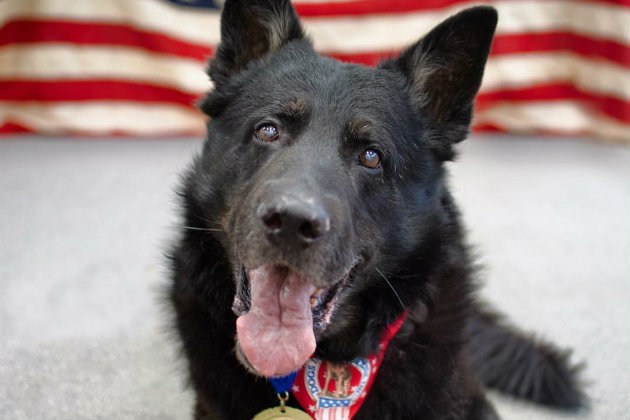 Adak is a retired bomb sniffin' hound. He's 13-years-old and lived a life full of accomplishments; his work in explosive detection is unmatched. He provided support to dignitaries, celebrities, and events across more than 10 states and three countries. His resume includes working for the US State Dept. in Iraq and Afghanistan, the US Army, Ft. McCoy, and Dogs for Defense (D4D).
Amongst his many career accomplishments, Adak performed flawlessly during a terror attack on the Kabul Serena Hotel in 2008. He lead a rescue team room to room during the active terror attack, leading them to guests in need of evacuation.
He's now happily retired with his fur-ever family.
Pierce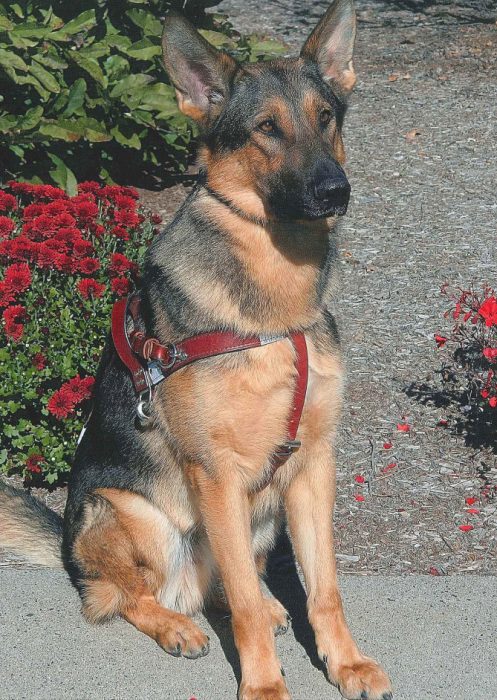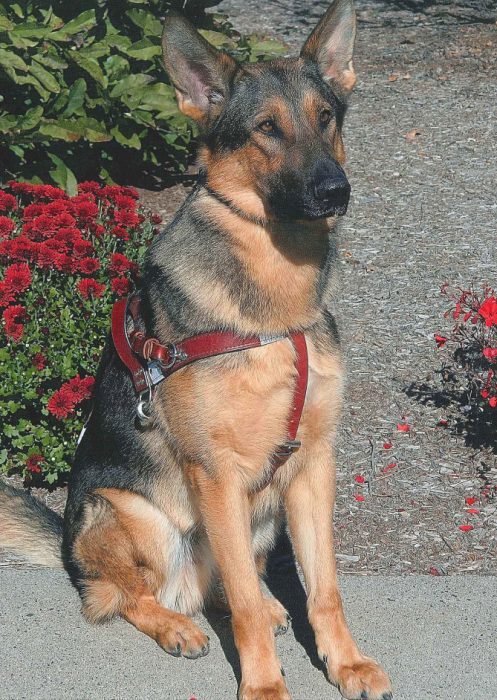 Pierce is a seeing-eye dog for Gulf War veteran, Don. He sustained an injury during 'Operation Desert Storm' that claimed his vision. He used a white cane for more than two decades, navigating his way through the world expertly. Don decided to get a guide dog when he had the heartbreaking realization on a family trip that he depended too heavily on his young son as a sighted guide. His twelve-year-old son made sure his dad was safe through hikes and travels, so Don decided to depend on someone else instead. The family got Pierce, a German Shepherd seeing-eye dog later that year. Don's now experiencing life with "refreshed independence and freedom".
Abigail from 'Bonnets for Abigail' was crowned with the American Hero Dog title, winning $5,000 for her charity of choice. Congrats Abigail! Each of the other finalists earned $2,500 towards their own charity partners as well.