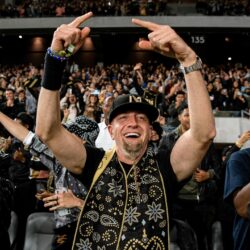 Birthday
April 22, 1974 (49)
Shavo Odadjian is a musician and director best known as the bassist of the Grammy-winning rock band System of a Down.
Odadjian's work extends beyond the bass lines of System of a Down's chart-topping albums. His creative vision is evident in the band's music videos, many of which he has directed, showcasing his talent in both auditory and visual storytelling. His contributions have been pivotal in albums such as "Toxicity" and "Mezmerize."
Collaboration has been a cornerstone of Odadjian's career. He has worked with a plethora of artists, including RZA, GZA, and Kinetic 9 from the Wu-Tang Clan, as well as with George Clinton, the mastermind of funk. His collaborative efforts extend to the likes of Tom Morello and Serj Tankian on various projects, illustrating his versatility across genres. He's also joined forces with the likes of Rick Rubin in production, and with Tankian, Daron Malakian, and John Dolmayan, his bandmates, to create some of System of a Down's most memorable work.
Odadjian's career with System of a Down has been decorated with several Grammy nominations and one win for Best Hard Rock Performance.