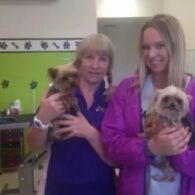 Boo and Pistol
Quite possibly the most famous dogs of 2016, Boo and Pistol were part of an International incident involving Johnny Depp and Amber Heard when they illegally brought their dogs into Australia. The incident dubbed Terriergate, lead to the most awkward online apology the Internet has ever seen. Amber Heard was further charged with 2 counts of illegally importing the dogs as well as a hefty fine of AUS $102,000. Since the divorce, it's been rumored that Ms. Heard has been able to keep the dogs and Johnny Depp has been rumored to contest. The Yorkies arrived via private jet and were only discovered after their dog groomers HappyDogz posted the photo seen here to facebook.
Photo Credit: HappyDogz/Facebook
Birthday
June 9, 1963 (59)
Johnny Depp, born June 9, 1963, is an American actor that has won the Golden Globe Award and Screen Actors Guild Award for Best Actor. Depp was first noticed for his role in the 1980s television series 21 Jump Street. Since then, he has become known as one the world's biggest film stars and he has gained worldwide recognition. In 2016, she was dating Amber Heard and filming in Australia when the couple illegal brought their dogs Boo and Pistol into the country.
Johnny Depp has a daughter Lily-Rose Depp with Vanessa Paradis.