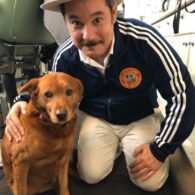 Dog Friends
Paul F. Tompkins doesn't have any pets or a dog himself, but he really really loves dogs. If you follow him on Twitter or Instagram, you'll see regular posts of dogs he meets or is friends with. For one of countless examples, he Tweeted this along with the photo of him with a doggy seen here, "I also got to meet this awesome makeup trailer dog named Charlie, who is the fantastic type of elderly dog that dutifully walks over to you for pets & scratches but shows zero emotions. When the camera was pointed at us, he immediately sat down without being told to like a PRO."
Paul F. Tompkins is an American comedian, actor, and writer best known for his stand-up comedy and his appearances on various comedy podcasts and television shows. He is also known for his work as a voice actor in animated series and films.
He has appeared on several television shows, including "Mr. Show with Bob and David," with Bob Odenkirk and David Cross, as well as "The Sarah Silverman Program," and "Curb Your Enthusiasm" with Larry David. He has also lent his voice to several animated series, including "BoJack Horseman" with Will Arnett, Amy Sedaris, Alison Brie, and Aaron Paul.
Aside from his acting career, Tompkins is also a talented writer and has contributed to several comedy podcasts and shows, including "Comedy Bang! Bang!" and "The Thrilling Adventure Hour." He has also hosted his own podcast, "Spontaneanation with Paul F. Tompkins," in which he improvises with a group of comedians.