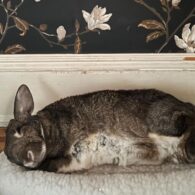 Tina Bunny
Amy Sedaris currently has a rabbit named Tina Bunny, which is her third rabbit. Sedaris' first rabbit was named Tattletale, which she impulsively got after seeing it in a pet shop window in the 1990s. She adopted her second rabbit, a black-and-white Mini Rex named Dusty, who passed away at age 12 in 2010.
If you follow Amy on Instagram, you'll notice that on the 1st of every month, she posts her rabbit with the hashtag #rabbitrabbit. She also gave an interview with Vogue in 2010 on the topic of "how to take care of a fashion rabbit".
They're very clean animals, they're quiet, and they love attention. If you get down onto their level, they'll cuddle with you—they'll end up rubbing their chins on you. I love how affectionate they can be. They purr. They make little noises. And when you've had a bunny for a while, you realize that you're tuned into their senses. It's really nice that you can communicate with an animal like that. It's amazing.

Amy Sedaris, Vogue, July 2010
Amy Sedaris is an American actress, comedian, and writer best known for her unique and quirky brand of humor. She has made a name for herself through her work on television, film, and stage, with her most notable role being Jerri Blank on the comedy series "Strangers with Candy."
Sedaris has worked with a variety of artists, actors, and celebrities throughout her career. She has appeared in numerous films, including "Elf" alongside Will Ferrell and "Puss in Boots" alongside Antonio Banderas. Sedaris has also lent her voice to several animated series, including "BoJack Horseman" which also stars Will Arnett, Alison Brie, Aaron Paul, and Paul F. Tompkins.
Aside from her acting career, Sedaris is also a talented writer and has authored several books, including "I Like You: Hospitality Under the Influence" and "Simple Times: Crafts for Poor People." She has also hosted her own comedy series, "At Home with Amy Sedaris," in which she parodies homemaking and cooking shows.