 No Pitbulls
Pitbull does not have any pitbulls in his family. While most would assume his love for dogs is the reason for his stage name, he chose the name Pitbull because the dogs "bite to lock. The dog is too stupid to lose." The breed is also outlawed in a Dade County, where he's from.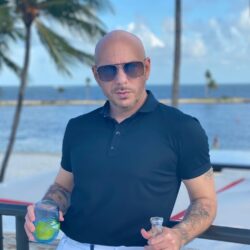 Birthday
January 15, 1981 (42)
Armando Christian Pérez, globally recognized by his stage name Pitbull, is a highly regarded Cuban-American rapper, singer, songwriter, and record producer. Over the course of his career, Pitbull has carved out a niche for himself in the world of pop and Latin music, garnering international fame and recognition for his vibrant tunes and energetic performances.
The rapper's music career truly took off in 2004 with the release of his debut album, "M.I.A.M.I," under the TVT Records label, which included the Billboard Hot 100 charting single "Culo." As he established himself in the music industry, his sophomore album, "El Mariel," highlighted his Cuban heritage and garnered positive critical reception. The momentum continued to build, propelling him to release subsequent albums including the highly successful "Planet Pit," which debuted at number seven on the Billboard 200 and featured the chart-topping single "Give Me Everything." He has released six studio albums, two EPs, and thirty-six singles. His seventh studio album, "Libertad 548" was released on September 27th, 2019. The album spawned the RIAA Latin Platinum single "No Lo Trates" (featuring Daddy Yankee and Natti Natasha). Pitbull has won 35 Billboard Latin Music Awards.
Pitbull's career has been marked by a vast number of collaborations with a variety of artists across genres, adding to the global appeal of his music. Jennifer Lopez, a notable collaborator, worked with Pitbull on her 2011 hit "On the Floor," which topped the charts in several countries. He has also paired up with Latin music titan Enrique Iglesias for tracks such as "I Like It" and "Messin' Around." Additionally, he's collaborated with pop heavyweights like Kesha on the single "Timber," which peaked at number one in eighteen countries. Other artists like Christina Aguilera, Marc Anthony, Chris Brown, and Ne-Yo have also had successful team-ups with the rapper. Even beyond the world of music, Pitbull collaborated with motivational speaker Tony Robbins, not on a song, but to invest in a tech startup, furthering his reach beyond music.
In terms of recognition, Pitbull has received a number of awards and distinctions that acknowledge his impact on the music industry. His single "I Know You Want Me (Calle Ocho)" earned him his first Billboard Music Award for "Top Latin Song" in 2009. He then went on to receive a Grammy Award in 2013 for his collaboration with Papayo on "Echa Pa'lla (Manos Pa'rriba)" in the Best Latin Urban, Rock, or Alternative Album category. Pitbull's engagement with the world community has also been acknowledged, as he received a key to the city of Miami for his ambassadorial work.
Beyond his musical pursuits, Pitbull has shown a commendable interest in advocating for education. Though it might not be directly related to animal advocacy, Pitbull's philanthropic efforts deserve mention. In 2013, he helped open the Sports Leadership and Management (SLAM) charter school in Miami, providing opportunities for underprivileged students to receive a quality education. This endeavor showcases Pitbull's belief in the power of education and his commitment to giving back to the community, demonstrating his multifaceted personality that extends beyond the stage and into real-world action.