 Lady and Buddy
Jennifer Lopez has two labradors named Lady and Buddy. They made headlines in August 2016 during their vacation in the Hamptons. JLo had paid a local dog spa to close to the public, so her dogs Roxy, Bear, Lady, Buddy, and Champ could have their privacy. After arriving in a limo, they spent the day getting massages, hot oil treatments, pedicures, baths and blow-dries. This would cost them about $350 each, but considering the spa closed for them we can assume JLo shelled out a ton more cash. This led to local Hamptons residents complaining that they had to wait until the late afternoon before their dogs could book an appointment. Champ
Jennifer Lopez has a huge mastiff named Champ.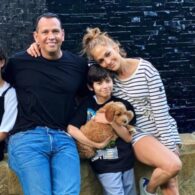 Tyson
Jennifer Lopez got a Goldendoodle named Tyson for her son Max (whose father is her ex-husband and singer Marc Anthony) in July 2020. Lopez, Max and Tyson are seen here with her ex-fiance Alex Rodriguez.
Birthday
July 24, 1969 (53)
Jennifer Lopez is an American singer, dancer, actor, designer and producer. Thanks to selling over 75 million albums, starring in films grossing over $2 billion and her designer and entrepreneurial projects, has earned an estimated net worth of $320 million.
She started her career as a dancer on the Fox comedy show In Living Color from 1991 to 1993. Since she has appeared in many TV shows and starred in over 30 feature films. Her popularity has made her one of the richest actresses in Hollywood, making up to $15 million per movie.
Her breakthrough role was starring in the 1997 biopic Selena, based on the popular Mexican-American singer who was tragically murdered by the manager of her clothing boutiques. This musical role lead up to her first studio album On the 6 which went platinum. This was followed by seven more successful albums, as well as two compilation albums, three box sets and 49 singles. She has received 296 award nominations with 210 wins, including four Billboard Music Awards and three American Music Awards.
She also has had massive success in the fashion and beauty industry, including her fragrance line exceeding sales of over $2 billion. She is also noted as being one of the most influential Hispanic performers in the United States, helping break racial barriers by being one of the few leading minority actresses.