After meeting Bambam on a Summer walk along Vancouver's Seawall, we finally got the chance to sit down with her and her human Jojo (who Bambam lovingly refers to as 'Hooman') for an interview. Sassy, stylish, and funny, Bambam loves sharing her life and adventures with her fans and friends. And unlike most pets you follow, Bambam and her roommates have a lot to say, letting us listen in on their deepest thoughts, hilarious rants, and some occasional drama between them.
Celebrity Pets: Hi Bambam, so how did you and your Hooman meet?
Bambam: Hooman came to see my long-legged brother who was up for adoption… But I kept running to her and jumping on her lap begging her to take me home instead.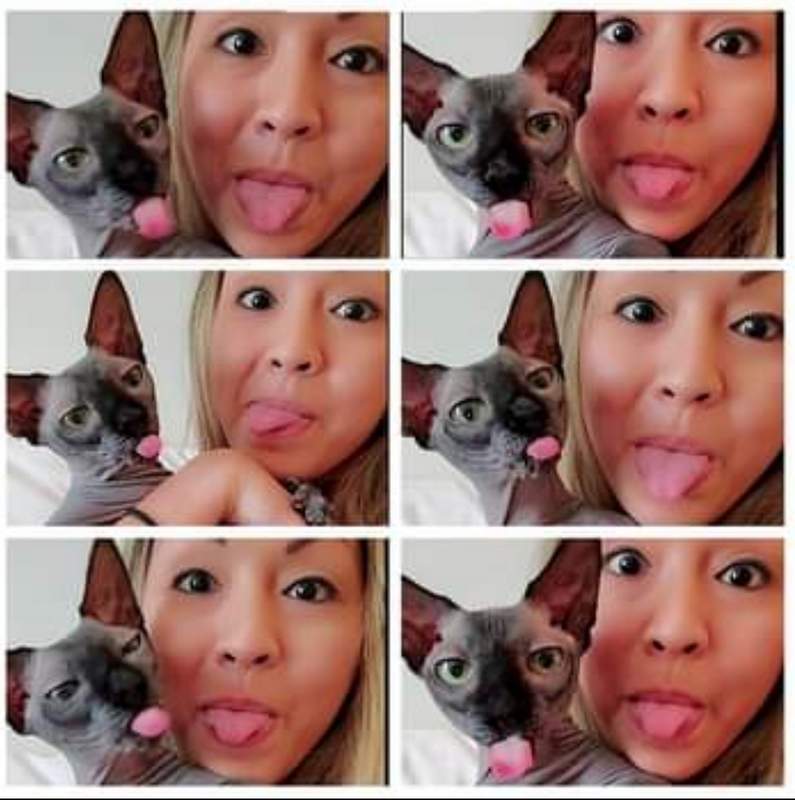 Celebrity Pets: Do you have a history with pets before meeting Bambam?
Hooman: I grew up surrounded by the jungles of Borneo and have been surrounded by animals since childhood. Dogs, snakes, rats, monkeys, spiders, rabbits, etc.
Celebrity Pets: Very cool. So what makes your pet special to you? Do they have any funny quirks?
Hooman: I feel more connected with animals than I do with humans. Bambam, Miss Molly, and Cousin Vinny all have their own unique personalities and never fail to make me smile even when am having a bad day.
Celebrity Pets: Can you educate us on the Bambino breed?
Bambam: Daddy was a Sphynx and Mama was a Hairless Munchkin. So here I am with short little legs. We are affectionate, and playful, and we love to be snuggled.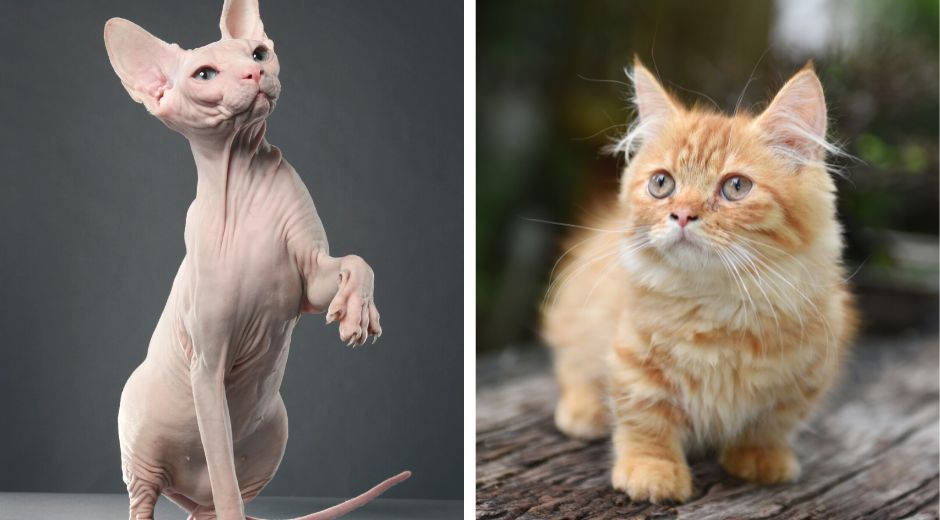 Celebrity Pets: What should people know about owning and caring for a hairless or munchkin cat?
Bambam: We require more care than the average cat as our skin is delicate to injury, sunburns, the weather (in colder places we require clothing and heat) and we need to be bathed as our skin/ears do get quite oily.
Celebrity Pets: Can you share a story that captures your pet's personality?
Hooman: There are so many. If you go to our Facebook page Bambam The Hairess Munchkin, we do a lot of "Dear Diary… " videos and it shows you each cat's quirky personality.
Celebrity Pets: Do you have a special talent or do any tricks?
Bambam: I stand on my hind legs a lot and can do it for a long time. I can go for walks, stroller/car rides, shopping, to the beach, parks, anywhere really… With my Hooman and without having to wear a harness. Also I'm not afraid of water and I can make food disappear.
Celebrity Pets: What's the naughtiest thing you've done?
Bambam: …steal food.
Celebrity Pets: What inspired you to start creating videos?
Bambam: LOVE. We love making people laugh and smile.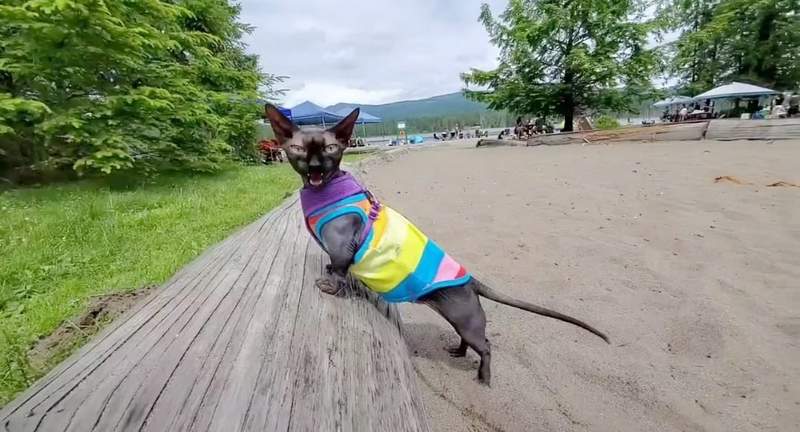 Celebrity Pets: When we first met, you caught our eye when you were out for a walk on Vancouver's Seawall. Do you have any tips for cats going on walks? Do you have a favourite harness or leash?
Bambam: Hooman got me used to going outdoors at a very young age. I was scared at first but then she showed me that I can trust her to protect me from any harm. It takes time but worth it.
Hooman: Just because you see someone walking their cat outside doesn't mean your cat will do the same. The right harness is important to use as most cats can easily slide themselves out of the harness. We get ours online from Chic Pet's Boutique.
Celebrity Pets: Can you introduce us to your roommates?
Bambam: I live with Miss Molly who is the oldest one in the household. She is a 9yr old, blue-eyed Canadian Sphynx (who is also a nip junkie). My Mama used to live with us too but she passed away last July 3, 2022 I miss her a ton.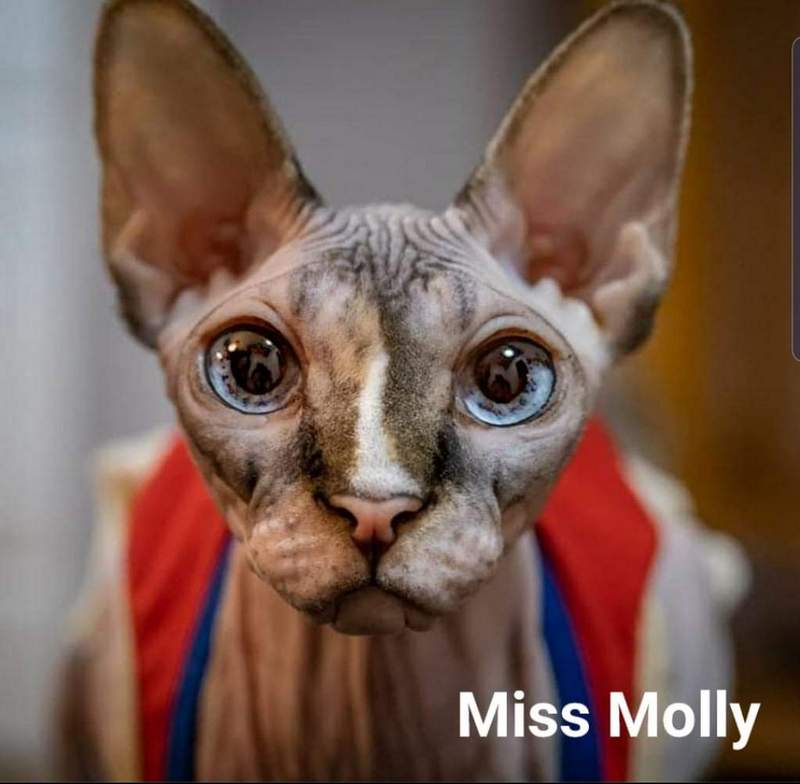 Then my Cousin Vinny moved in with us when he was 12 weeks old, all the way from California. He's now almost 9 months old. Then we have Hooman Jojo who cleans up after us and makes us delicious meals and gives us butt rubs.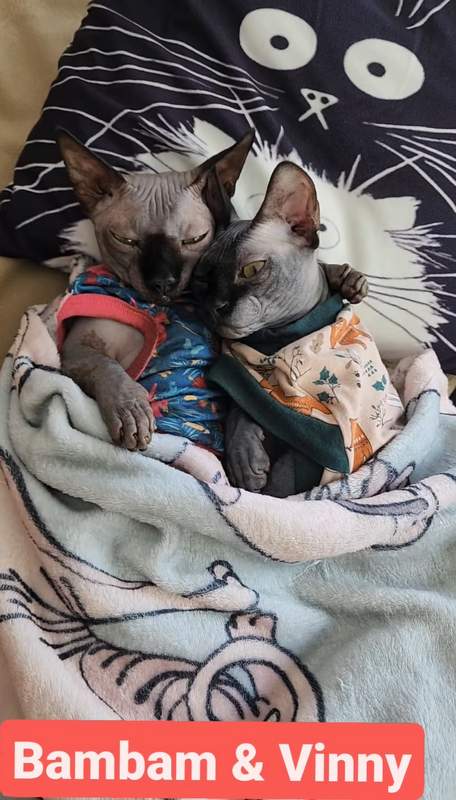 Celebrity Pets: We see you also have a couple of robot roommates. What's their deal?
Bambam: There's Kymee The Robot and she keeps an eye on us, talks to us, plays with us, and gives us treats while Hooman is at work or away from home. There are also Spy cameras set up all around the house. I think Hooman is a stalker… She won't leave us alone…
Celebrity Pets: We also see you have a couple of canine friends. Who are they and what's your relationship like with dogs?
Bambam: Yes we've had a few canine friends throughout the years. They come and go but the longest canine friend we've had is Charlee (aka Bumsniffer, aka PermDawg). Charlee belongs to Hooman's coworker and sometimes the humans take us to work with them. We aren't afraid of other species as long as they aren't fierce or annoying.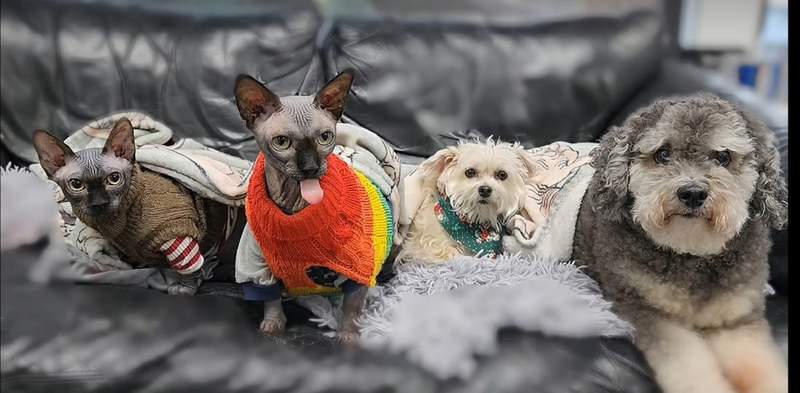 Celebrity Pets: We're sorry that hear that Mama passed away. If you're up to it, could you share a bit about her?
Bambam: Hooman brought me to my forever home when I was 14 weeks old. About a year and a half later, she brought home Mama. I didn't recognize her at first but by the second and third day, I knew I recognized that scent. We became inseparable since then. But she suddenly left us and my heart was completely broken.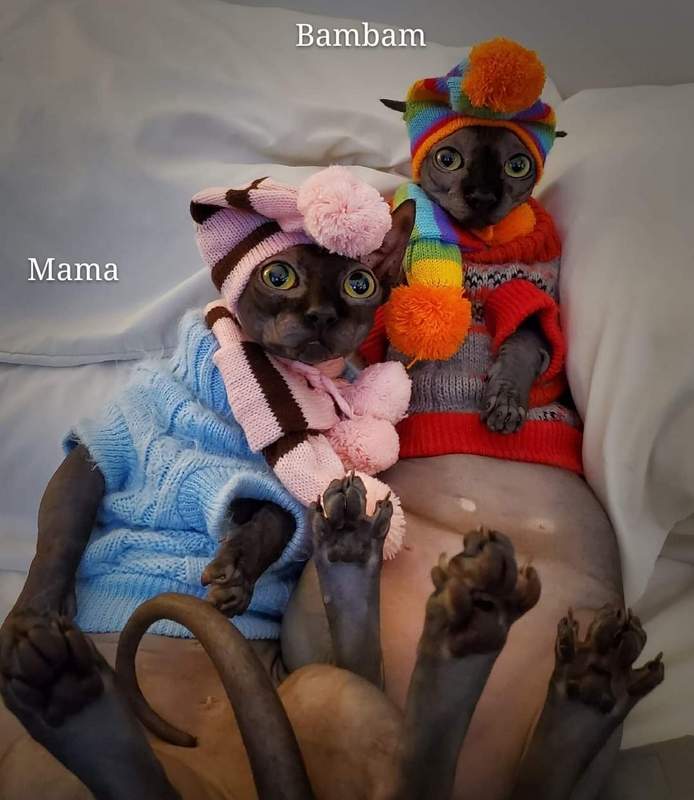 Celebrity Pets: Are there any projects you're working on you'd like to share?
Bambam: A lot of things have happened in the last year and Hooman is starting from bottom at this time. But we are looking to do more of what we used to do in the near future.
Hooman: Back in 2017, we fed around 1000 children in a poor village in the Philippines. We have also helped out close to 500 cats in a sanctuary and helped the homeless community throughout the years. We are working on doing more of that once we get the chance.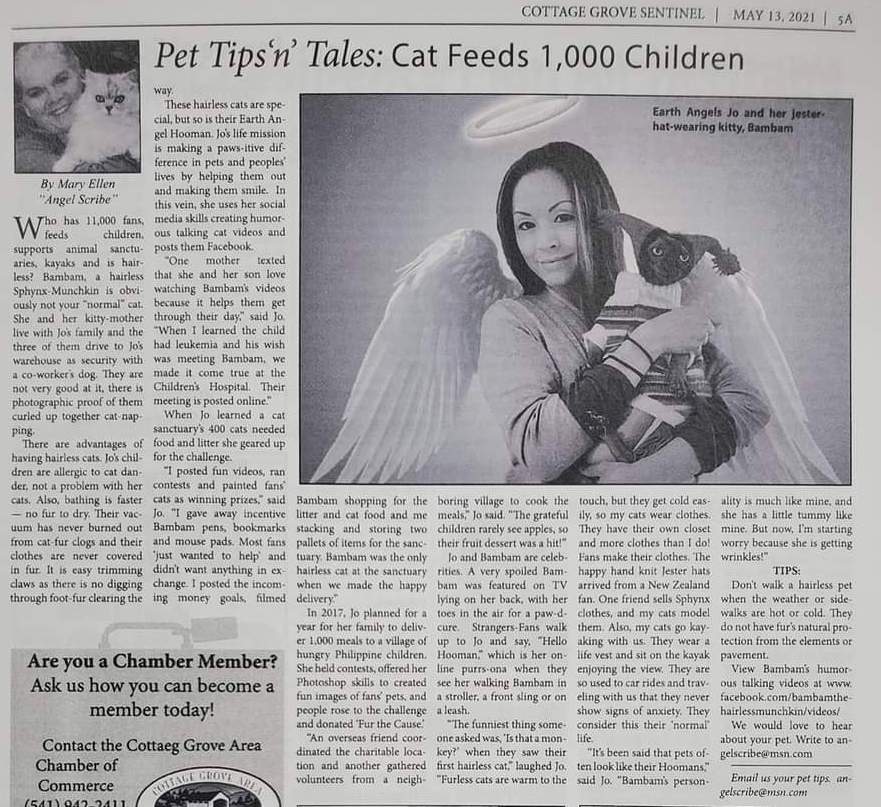 Celebrity Pets: What's your dream job or project?
Bambam: To be able to have more time to do videos, put smiles on people's faces, spread love and help others/animals.
Celebrity Pets: When your life story is turned into a feature film, what celebrity would play you and your hooman? Who would co-star?
Bambam: Hmmm… i think it would be more like a reality, documentary-style film where the real us would be featured. I don't think there's anyone out there who would have the same FUPA as me.
Celebrity Pets: If you hosted a TED talk, what would the topic be?
Bambam: FOOD
Celebrity Pets: If you were stuck on a deserted island, what are the 5 essential items you'd take?
Bambam: Treats, Snacks, Food, Meals, and Munchies (T.S.F.M.M.)
Celebrity Pets: When you're hungry, what are your go-to treats and food?
Bambam: Hmmm… that's a hard one. I like everything but Hooman limits the food I take. She makes sure that she gives me healthier foods. We have cheat days sometimes. Then she makes me work out, like running up and down the stairs.
Celebrity Pets: We see that you're a fashionista. What are your favourite outfits? Do you have any favourite cat clothing brands?
Bambam: If I could, I would wear bikinis. But I have no choice but to put on whatever Hooman puts on me. But I guess it's okay coz they are all pretty comfortable. She doesn't put on anything uncomfortable for us. No favorite clothing brands. We like anything that is comfortable to wear.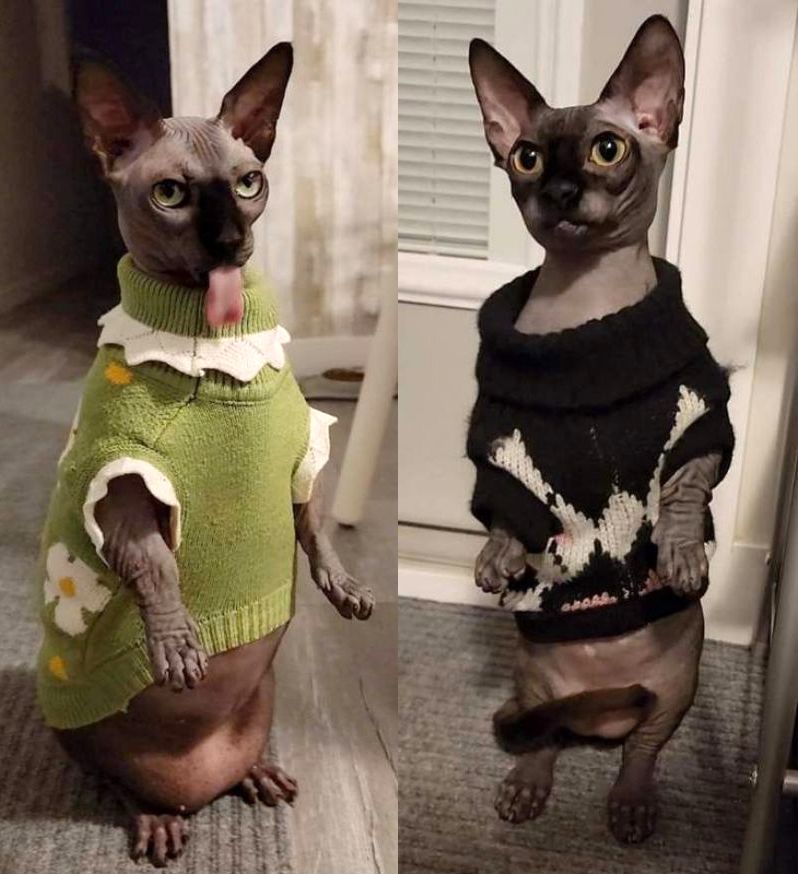 Celebrity Pets: If you just won the lottery, what's the first thing you'd buy or do?
Bambam: A never-ending supply of treats. But that will never happen coz Hooman won't let me. So instead I will put it towards helping less fortunate children and animals.
Celebrity Pets: Imagine you're the host of Big Nights with Bambam, a late-night talk show, who would be your top three celebrity guests and why?
Bambam: Moose The Sphynx (He is dreamy with his Derp face). Sleazy And The Moldy Chicken (A house full of meow meows and their human slave) and David Attenborough (who doesn't love him?)
Celebrity Pets: If you could give your younger self one piece of advice, what would it be?
Bambam: Be better at stealing food… I always get caught!
Celebrity Pets: What's the deal with the fun pet photoshops you've made?
Hooman: I love playing around with photoshopping cats. I just do it for fun and have actually "traded" some work for donations that I collected to help the less fortunate over the years. At the moment, I do not have the software but looking to get back into it sometime in the near future to continue what we do in helping others in need.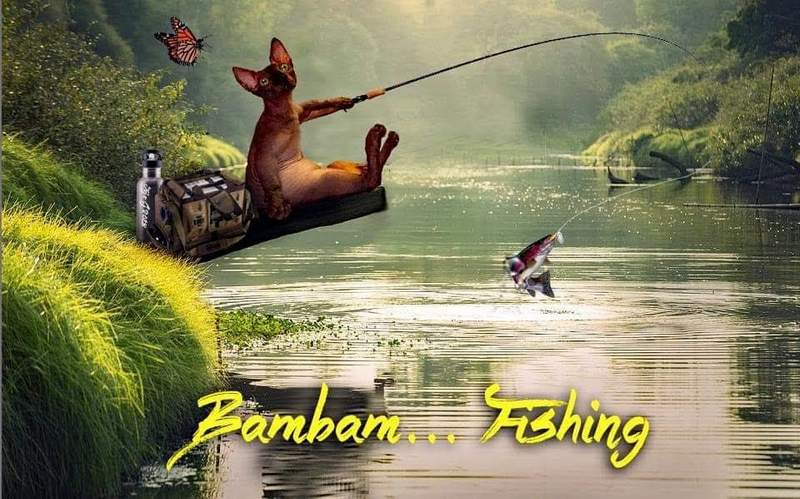 Celebrity Pets: We see you've supported several charities. To help inspire our readers, can you share any stories on this?
Bambam: As we mentioned, we've helped both kitties and humans when we can. We do not gain any financial profit from supporting the charities. We also do not give money. Instead, we give our services from our hearts and provide them with food and supplies that are needed 100%. We just want to see smiles.
Celebrity Pets: What's the story behind this video?
Hooman: Cousin Vinny is a lot younger and much more playful than Bambam. Bambam is extremely patient with Cousin Vinny and will never hurt him. Every morning after breakfast, Cousin Vinny wants to play with Bambam who just wants to chill in her food coma. They end up wrestling each other every morning. "Ham" is the nickname the fans have given Cousin Vinny. "Hippo" is the nickname given to Bambam as her body resembles that of a hippo. Hippos are cute!
Celebrity Pets: Have any exciting plans coming up?
Bambam: We can't wait for the sun to be out and warmer days to come as we miss our outdoor adventures. There will be tons this summer!
Make sure to follow @BambamtheHairessMunchkin on Facebook and Instagram!