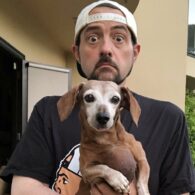 Shecky
Kevin Smith had a Dachshund named Shecky that passed away in April 2023. He wrote an obituary that she shared on Instagram.
"My beloved best friend and faithful canine companion, the sensational Shecky, passed away quietly in her sleep last week," he began. "It is the most devastating loss I've experienced since the death of my Dad (20 years ago this June), because Shecky was a phenomenal fixture on the landscape of my life for nearly 2 decades. For over a third of my 52 years, her plucky personality permeated my existence and my work."
Kevin Smith is an American filmmaker, actor, comedian, comic book writer, author, YouTuber, and podcaster. His first low-budget film Clerks (1994) become a cult classic which starred his characters Jay and Silent Bob. The success of the roles led to films Mallrats (1995), Chasing Amy (1997), Dogma (1999), Jay and Silent Bob Strike Back (2001), Clerks II (2006), Jay and Silent Bob Reboot (2019), and Clerks III (2022).
He co-founded the production company, View Askew Productions, with Scott Mosier which often stars actors Ben Affleck, Jeff Anderson, Matt Damon, Chris Rock, Walter Flanagan, Bryan Johnson, Jason Lee, Jason Mewes, Brian O'Halloran, and Ethan Suplee.