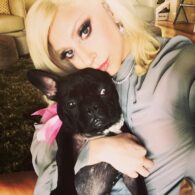 Miss Asia Kinney (aka BATPIG)
With over 220,000 Instagram Followers, Lady Gaga's dog, Miss Asia Kinney, aka BATPIG, is one of the most famous celebrity dogs. Born in February 2014, Lady Gaga adopted her in April 2014. In addition to massive Internet fame, Lady Gaga has also secured a modelling contract for her small dog Miss Asia Kinney, with COACH. She can be seen sporting a trendy collar as part of the "Coach Pups" campaign, which also featured Ariana Grande's dog, Toulouse. A true philanthropist like her human, Miss Asia donated to the Chicago French Bulldog Rescue as part of the Coach Pups campaign.
Lady Gaga (real name Stefani Joanne Angelina Germanotta) is an American singer, songwriter, and actress. Both her musical and acting careers have received widespread acclaim, winning countless awards, including 13 Grammy Awards, two Golden Globe Awards, and an Oscar. Her debut album The Fame (2008) was a critical and commercial success that produced international chart-topping singles such as "Just Dance" and "Poker Face". Her follow-up album, Born This Way (2011) was also a huge success, which included the chart-topping single "Born This Way".
Lady Gaga started her career in acting with a leading role in season 5 of American Horror Story, which won her a Golden Globe Award. She also was cast in season 6. In 2019, she starred opposite Bradley Cooper in the film A Star Is Born, which earned them both multiple awards and nominations. She most recently starred in the film House of Gucci (2021) with Adam Driver, Jared Leto, Salma Hayek, and Al Pacino. Gaga is also well-known for her activism and philanthropy, through her Born This Way Foundation and by supporting multiple human rights and environmental causes.
Lady Gaga's French Bulldogs Dognapping Incident
In February 2021, two of Lady Gaga's three Frenchies were dognapped while out with their dog walker Ryan Fischer. While walking Gaga's dogs Miss Asia, Koji, and Gustav, a car stopped and two suspects got out and approached the dog walker. The suspects demanded he hands the dogs over, a struggle ensued, and one of the suspects shot the dog walker in the lung. The two suspects grabbed Koji and Gustav and drove off, leaving Miss Asia and the dog walker. With the news making international headlines, Gaga made an Instagram post offering a $500,000 reward for her two pups. A few days later, a woman turned in the two dogs but was later charged along with four other people, for taking part in the robbery and shooting. The brave dog walker recovered from his injuries.
In April 2022, James Howard Jackson, who shot Gaga's dogwalker, was mistakenly released from jail, before being caught in August 2022. In December 2022, Jackson was sentenced to 21 years in jail. The dogwalker confronted Jackson in court to forgive him and share how negatively being shot in the lung had affected his life since. Authorities noted they believe the dognappers targeted the Frenchies because of they're a rare, expensive breed, not because of their famous owner.