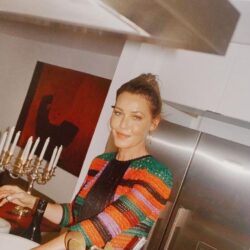 Birthday
July 3, 1965 (58)
Connie Inge-Lise Nielsen is a Danish actress known for her roles as Lucilla in the film "Gladiator" (2000) and as Queen Hippolyta in the DC Extended Universe, starting with "Wonder Woman" (2017). Over the years, Nielsen has showcased her acting prowess in a variety of films, including "Soldier" (1998), "Mission to Mars" (2000), "One Hour Photo" (2002), "Basic" (2003), "The Hunted" (2003), "The Ice Harvest" (2005), "Nymphomaniac" (2013), "3 Days to Kill" (2014), "Inheritance" (2020), and "Nobody" (2021). In addition to her film roles, she has also made her mark on television, with roles in the NBC crime drama series "Law & Order: Special Victims Unit" (2006), the Starz political drama series "Boss" (2011–2012), the Fox crime thriller series "The Following" (2014), the TNT limited drama series "I Am the Night" (2019), and the Channel 4 drama series "Close to Me" in 2021.
Nielsen's collaborations with other celebrities have been noteworthy. She shared the screen with Russell Crowe and Joaquin Phoenix in "Gladiator," Al Pacino and Keanu Reeves in "The Devil's Advocate," and Kevin Costner in "3 Days to Kill." Additionally, she worked with Robin Williams in "One Hour Photo," John Cusack in "The Ice Harvest," and Bob Odenkirk in "Nobody." In the realm of television, she partnered with Christopher Meloni in "Law & Order: Special Victims Unit" and Kelsey Grammer in "Boss." Furthermore, her collaboration with director Lars Von Trier in "Nymphomaniac" saw her working alongside Charlotte Gainsbourg, Jamie Bell, and Uma Thurman.
Throughout her illustrious career, Nielsen has been recognized for her exceptional performances. One of her most notable achievements was winning the Danish Best Actress Award, the Bodil, for her role in the drama "Brødre" (also known as "Brothers"). She also received the Best Actress award at the San Sebastian International Film Festival for the same role and was nominated for Best Actress at the European Film Awards.