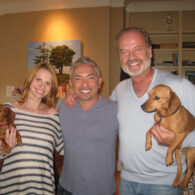 Dachshunds
Kelsey Grammer has two Dachshund dogs that he once recruited Cesar Millan to help train. The dogs were a "little bitty" and he needed some help training them into lovable pets. Whether the trainingw as for Kelsey Grammer or the dogs, we don't know.
Eddie (aka Moose)
Eddie, better known by his real name Moose, was Fraser Crane's beloved dog on the show "Fraser." While Fraser had nothing but kind words to say about his lovable fictional dog, Eddie, Kelsey reportedly was not a fan of the hyper mutt. A few of the cast were often frustrated by Eddie's antics as he would often break character and do just about anything he wanted. He would also apparently run around the set catching and killing mice every chance he got.
Kelsey Grammer is an American actor, comedian, producer, director, and writer. Grammer's breakout role was as the witty and cultured psychiatrist, Dr. Frasier Crane, in the iconic TV sitcoms "Cheers" and "Frasier". Since then, he has appeared in numerous movies, TV shows, and stage productions, showcasing his range as an actor and earning critical acclaim and numerous accolades.
Grammer's most notable role was in the TV series "Frasier", which aired from 1993 to 2004. The show was a spin-off of "Cheers", where Grammer's character made his first appearance. The show was a massive success, winning a record-breaking 37 Primetime Emmy Awards and becoming one of the most beloved and iconic TV shows of all time.
In addition to his work on "Cheers" and "Frasier", Grammer has also had numerous other roles on both the small and big screens. He has appeared in movies such as "X-Men: The Last Stand", "Toy Story 2", and "Anastasia". He has also made notable TV appearances in shows such as "The Simpsons", "30 Rock", and "Modern Family". Grammer has also had a successful stage career, with appearances in productions such as "Macbeth", "My Fair Lady", and "La Cage aux Folles".
Throughout his career, Grammer has had the opportunity to work with numerous celebrities and influential people. Some of the most notable include Ted Danson and Woody Harrelson on "Cheers", David Hyde Pierce and Jane Leeves on "Frasier", and Hugh Jackman and Patrick Stewart in "X-Men: The Last Stand". He has also collaborated with directors such as Brett Ratner and Andy Tennant and actors such as Lauren Bacall, Alicia Silverstone, and John Malkovich.
He is a supporter of several animal non-profit organizations and has been involved in various campaigns to raise awareness and funds for animal causes. In 2015, Grammer founded the Grammer Rescue Fund, which provides grants to animal rescue organizations and promotes animal rescue and adoption.