Anyone who lived through the 1990s will recognize him as Eddie Crane on the classic sitcom Frasier. This rescued Jack Russell Terrier's real name was Moose, and this role made him one of the most famous canine actors of all time (and arguably the most famous sitcom dog). He's also considered one of the richest pets, who had an estimated net worth of $3.2 million – Thanks to stacking $10k per episode. And to top it off, this was his first acting gig!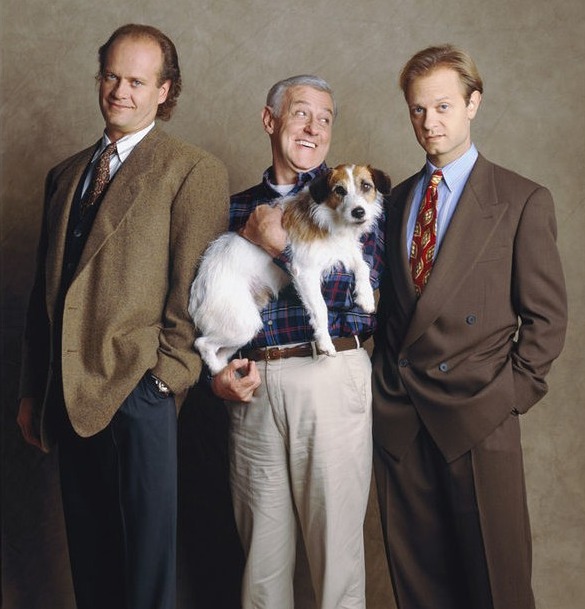 With the release of the Frasier reboot, almost 20 years since the original went off the air, Eddie, among other human costars, is no longer alive to rejoin the cast. Moose did live an epic life over 15 years that's worthy of a Netflix biopic. Oh yeah, he did publish an "autobiography" back in 2000 (with the help of Brian Hargrove, the husband of actor David Hyde Pierce, who played Niles Crane on Frasier)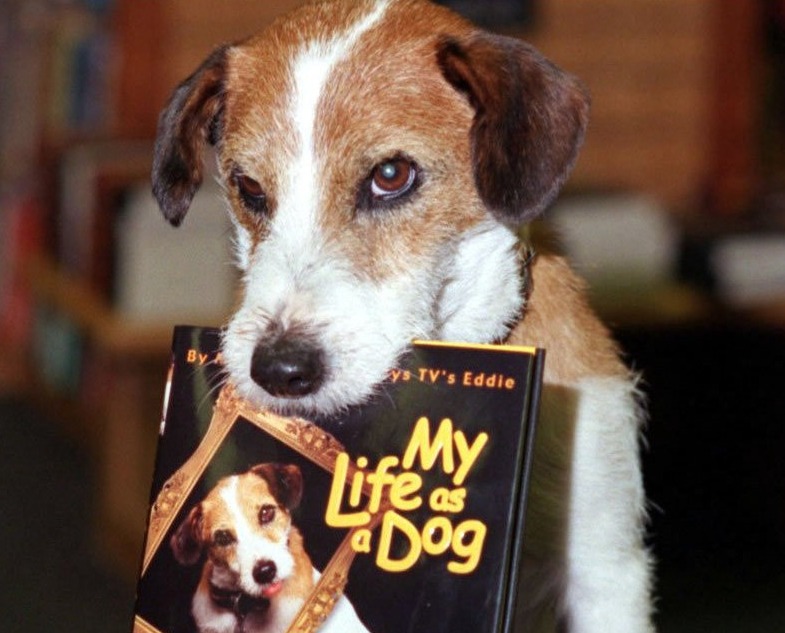 Before the fame (and Eddie Crane)
Moose was born on Christmas Eve 1990, but his early years were no gift. He was a "bad boy" in his early years, got into plenty of trouble, but eventually turned it all around into an incredible acting career, ala Robert Downey Jr. He was with his first family in Florida for a turbulent 2 and a half years. He chewed, dug, barked 24/7. He refused to be house trained. He was also known to constantly escape and even climb trees! Hoping to put his high energy to good use, they gave Moose to Birds and Animals Unlimited in Florida, a company that trains animals to act. Then Moose was flown to L.A. to train under Mathilde de Cagny. And in case you're not familiar with top Hollywood pet trainers, her 30+ year career includes We Bought a Zoo, Beverly Hills Chihuahua, Hugo, Lady and the Tramp, and many more.
A dog star is born – Moose lands his role on Frasier
Moose's trainer, Mathilde de Cagny, was able to re-focus his energy – And Moose had a natural talent for tricks and acting. And with only six months of training and no acting experience, he impressed the producers of Frasier enough that they hired him!
He's like a robot. A consummate professional who works hard learning his tricks.

John Mahoney (Marty Crane) speaking to Animal Press magazine in 1994
On the set of Frasier, he still somewhat held on to his bad-boy persona, and didn't really get along that well with the cast. Despite his role as Martin Crane's beloved pooch, Mahoney hated Moose because he'd always bite him. But apparently, he was such a professional when it came to acting that the cast fully respected him. In Moose's 1993 Entertainment Weekly cover story is "Actually, he's probably the most disciplined cast member," and "The rest of us are the ones who goof around." A fan-favorite recurring joke was Eddie staring down Frasier, which was actually originally improvised by Moose. Just one great example of his outstanding acting chops!
The most popular actor on one of the 90s most popular sitcoms
Frasier was one of the biggest sitcoms of the 1990s and early 2000s. And while the whole cast was iconic, Eddie was beloved by countless fans during (and after) its 11-season run. It was rumored that Moose got the most fan mail of the cast, with Kelsie Grammer even speculating that in a 1994 Washington Post interview. Moose was such an instant hit, that he managed to land the cover of Entertainment Weekly just a few months after Frasier premiered in 1993. He also appeared in plenty of interviews, TV guest appearances, and articles throughout his career.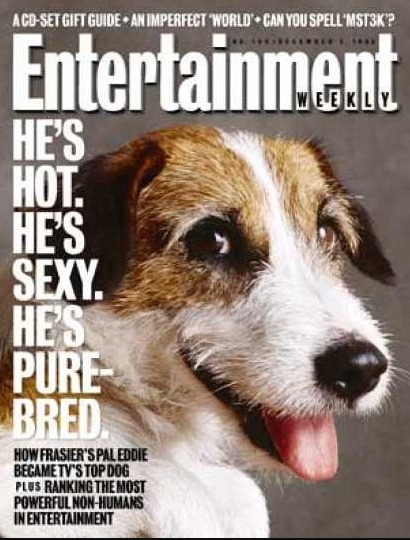 He's amazing, the things he can do. It's like he's a method actor. I had one scene where I had to scold him and tell him to get off the couch. And for the whole week he was distant and cold. I couldn't understand it. Later I figured out he was using that anger for the scene. I really respect that.

Jane Leeves (Daphne Moon), Entertainment Weekly, December 1993
Kelsie Grammer was originally against having a canine costar
Kelsey Grammer was originally against the idea of having a dog or a kid on the show… But he was pressured into it by his producers. Luckily, even though they didn't have much of a personal relationship on or off set, Grammer thought Moose was an excellent addition to the cast and appreciated the enjoyment he brought to adult and child fans. In the Washington Post interview mentioned above, Grammer said filming often "takes twice as long," but "It takes care of kids a lot. If the dog grabs them… they end up thinking anyway, listening to the show… it's the best of both worlds."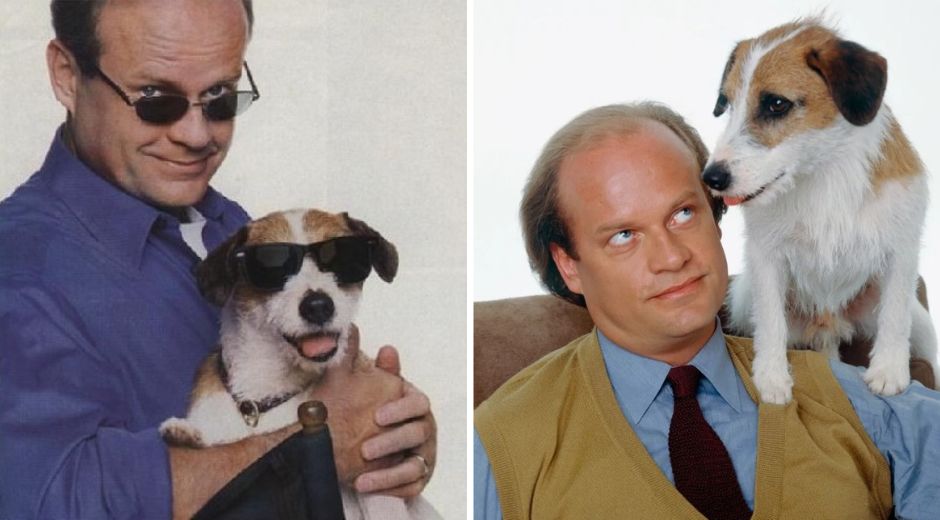 Moose and his son Enzo – Doggywood nepotism?
Moose, already 3 years old when he landed the role, played Eddie for the first 7 seasons. In 1995, Moose had several kids with another purebred Jack Russell named Chelsea Marvin. Out of his kids, his son Enzo looked the most like him. Enzo broke into acting by being Moose's stunt double. This was due to Moose aging and not wanting to do some of the more physical tricks and stunts. Moose retired in 2000, with Enzo taking on the role of Eddie for seasons 8 through 11. Father and son both appeared in one movie together called My Dog Skip (2000), alongside Frankie Muniz, Diane Lane, Luke Wilson, and Kevin Bacon. Enzo played the lead role of Skip, with Moose playing an elderly Skip.
What happened to Moose, the dog who played Eddie?
After leaving the cast of Frasier in 2000, Moose enjoyed six years of retirement with his trainer, Mathilde de Cagny, and her husband. They also lived with Jill, the dog they trained who's known for her role in As Good as It Gets (1997) with Jack Nicholson and Helen Hunt. After battling dementia and deafness, Moose passed away at his home surrounded by loved ones at the age of 15.
Kelsey Grammer, who clearly got his fill of Jack Russels, has two Dachshunds at home.
For the other 90s Jack Russell actor you most likely think of other than Eddie, check out the story of Soccer, the dog that played Wishbone.