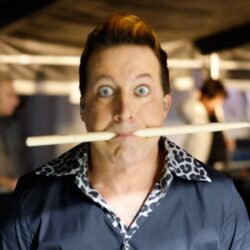 Birthday
December 9, 1972 (50)
Tré Cool, full name Frank Edwin Wright III, is an American musician famously recognized as the drummer for the punk rock band Green Day.
Entering the music industry as an adolescent, Cool's first experience in the limelight was as the drummer for The Lookouts, a punk band formed in 1985. However, his career truly kicked off when he joined Green Day, replacing original drummer John Kiffmeyer. As part of the band, Cool made an indelible mark on the music scene, contributing significantly to albums like "Dookie," "American Idiot," and "21st Century Breakdown" which sold millions of copies worldwide and shaped the trajectory of punk rock in the 90s and 2000s.
Cool's tenure with Green Day has involved many collaborations with renowned musicians and bands. To name a few, he has shared the stage with U2, worked with producers like Rob Cavallo and Butch Vig, and even guest-starred in an episode of "King of the Hill" along with fellow band members Billie Joe Armstrong and Mike Dirnt.
Despite Green Day's punk rock image, the band and its members have won several major awards. Tré Cool's extraordinary talent behind the drum kit played a major role in Green Day winning five Grammy Awards, including Record of the Year for "Boulevard of Broken Dreams" and Best Rock Album for "American Idiot" and "21st Century Breakdown." The band also earned induction into the Rock and Roll Hall of Fame in 2015.