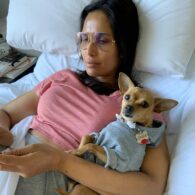 Divina
Divina, a Chihuahua, had a challenging past. Rescued from an apartment in Queens where she was one among sixteen chihuahuas hoarded in a single room, her life took a turn when the mother in the home passed away from Covid. Subsequently, the animals were taken to Animal Haven. While most dogs found new homes swiftly, Divina's adoption was short-lived as the adopting family returned her within a month, emphasizing it wasn't due to any fault of hers. Despite these circumstances raising concerns for Padma Lakshmi, she was touched by Divina's gentle nature. She decided to adopt Divina, much to her daughter's astonishment and immense joy. Adopted in November 2020, Divina has become a beacon of positivity in their lives.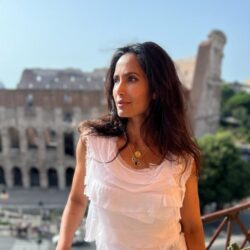 Birthday
September 1, 1970 (53)
Padma Lakshmi is an Indian-born American author, actress, model, television host, and executive producer. With her quintessential charisma, she has graced screens, runways, and readers' hearts alike.
Her notable presence in the entertainment industry can be attributed to her role as the host of the US television program "Top Chef," where she captivated audiences with her knowledge, grace, and palate. She also starred in the film "The Mistress of Spices," and the television mini-series "Sharpe's Challenge." Beyond the silver screen, she penned the bestselling memoir "Love, Loss, and What We Ate" and the encyclopedia "The Encyclopedia of Spices and Herbs."
In her expansive career, Padma has shared the spotlight with numerous celebrities and influential figures. She's worked with culinary giants like Tom Colicchio, Gail Simmons, and Emeril Lagasse on "Top Chef." Furthermore, in the realm of film and television, she's collaborated with talents like Aishwarya Rai Bachchan, Dylan McDermott, and Anupam Kher. Beyond entertainment, she's shared stages with literary icons Salman Rushdie, with whom she was previously married, and Deepak Chopra.
Padma's remarkable journey through the world of entertainment and literature hasn't gone unnoticed. She received a nomination for the Primetime Emmy Award for Outstanding Reality Host for "Top Chef." Additionally, her books have received critical praise, with "Love, Loss, and What We Ate" being singled out by many as an intimate and heartwarming memoir.