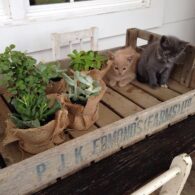 Little Jo and Fluffy
Do farm cats count as pets? These cute little mousers seem to think so. Little Jo and Fluffy were adopted for the job of rodent control but seem to enjoy days off in the sun more. Besides Little Jo and Fluffy, the Gaines' have countless cute kitties running around their acreage – what's a farm without cats, after all?
Chip Gaines was born November 14, 1974 in Albuquerque, New Mexico. Along with his wife and business partner, Joanna Gaines, Chip owns countless business ventures in Waco, Texas and co-stars in HGTV's reality TV show The Fixer Upper. Magnolia Real Estate, owned by the couple, owns some of the properties featured on the show which are also furnished by, you guessed it, Joanna's line Magnolia Furniture.
The couple have four kids and live and work in Waco, Texas in a beautiful 1,700 square foot Victorian farmhouse. With 40 acres of land it seems that Chip can't help himself when it comes to farm animals and pets alike. Apparently, surprising his wife with bottle-fed calves instead of flowers isn't out of the norm for this Texan.