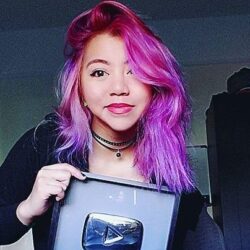 Birthday
August 30, 1992 (30)
Dennise Andrea Casurra, known by her YouTube name CypherDen, is a YouTube content creator.
Throughout her career, CypherDen has produced a multitude of milestone projects including her animated web series "The Pals" gained immense popularity. Additionally, CypherDen's music videos, parodies, and comedic sketches have captured the attention of millions of fans worldwide, showcasing her exceptional creativity and storytelling abilities.
CypherDen's collaborations with notable celebrities have further solidified her influence in the YouTube community. She has joined forces with other prominent content creators such as TheOdd1sOut, Jaiden Animations, and SomethingElseYT, creating collaborative videos that have amassed millions of views.
In recognition of her talent and dedication, CypherDen has received several awards and accolades. Her work has been honored with prestigious titles, including multiple Streamy Awards nominations for Animation and Editing.