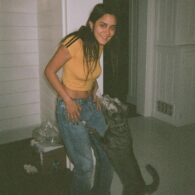 Billie
Billie is a small, dark-haired dog co-owned by Jesse Jo Stark and YUNGBLUD, having been adopted from the east side of Los Angeles. In 2019, Stark affectionately referred to Billie as "the bride of Frankenstein." While Billie has a sibling named Peanut, there has yet to be a public appearance of her. Billie is distinctively marked by a lighter hair color framing her face.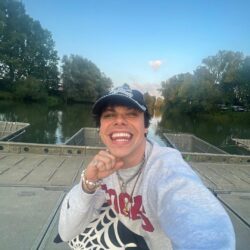 Birthday
August 5, 1997 (26)
YUNGBLUD, born Dominic Richard Harrison, is an English singer, songwriter, and actor known for his unique blend of alternative rock, pop, and hip-hop that has propelled him to international stardom.
After initially dabbling in acting with appearances in television series like "The Lodge" and the miniseries "When the Lights Went Out," YUNGBLUD shifted his focus towards music, releasing his debut album "21st Century Liability" in 2018. The album gained significant traction, giving a platform to his outspoken socio-political commentary, encapsulated in tracks like "Polygraph Eyes" and "Medication." His subsequent releases, including the 2020 album "Weird!" and 2019's EP "The Underrated Youth."
Over the years, YUNGBLUD has collaborated with a wide array of celebrities and artists. Some of these collaborations have been with Halsey (Ashley Nicolette Frangipane), Travis Barker, Machine Gun Kelly (Colson Baker), Dan Reynolds, Marshmello (Christopher Comstock), KSI (Olajide William Olatunji), blackbear (Matthew Tyler Musto), Dan Reynolds, Daniel Wayne Sermon, and Ben McKee of Imagine Dragons, and Charlotte Lawrence.
YUNGBLUD won an NME Award for "Best Music Video" in 2020 for his song "Original Me," featuring Dan Reynolds of Imagine Dragons. Moreover, his album "Weird!" debuted at number one on the UK Albums Chart. He's also been featured in prestigious magazines like "Billboard" and "NME," which have covered his social activism, notably in areas concerning LGBTQ+ rights and mental health advocacy.