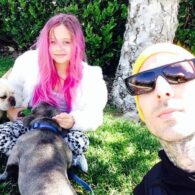 Blue, Biggie, Fudge, Louis, and Elvis
Travis Barker and his kids, Alabama and Landon, had five French Bulldogs named Blue, Biggy, Fudge, Louis and Elvis. They sadly now have four, as Blue passed away on November 3, 2022. Blue's full name is Yung Blue Dawg and Fudge is his daughter. Travis posted the photo seen here to his Facebook page in 2014, which shows Alabama with Blue and Biggie.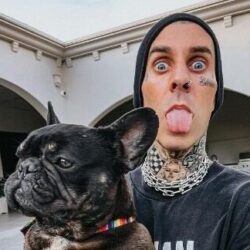 Birthday
November 14, 1975 (47)
Travis Barker is an American musician who serves as the drummer for the rock band Blink-182. He has also performed as a frequent collaborator with hip hop artists, is a member of the rap rock group Transplants, founded the rock bands +44 and Box Car Racer, and thereafter joined Antemasque and Goldfinger. Barker was a frequent collaborator with the late DJ AM, and together they formed TRV$DJAM. Due to his fame, Rolling Stone referred to him as "punk's first superstar drummer" as well as one of the 100 greatest drummers of all time.
Travis Barker is married to Kourtney Kardashian. He has two kids from his previous marriage to Shanna Moakler who are also musicians: Alabama Barker and Landon Barker.