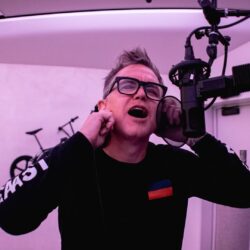 Birthday
March 15, 1972 (51)
Mark Hoppus is an accomplished American musician, vocalist, and songwriter, recognized worldwide as the co-founder of the punk rock band Blink-182. As the band's bassist and one of its lead vocalists, Hoppus's musical prowess, distinctive vocals, and engaging stage presence contributed significantly to the global success of Blink-182.
Hoppus's career in the music industry began to blossom in the early 1990s with the formation of Blink-182, alongside drummer Scott Raynor and guitarist Tom DeLonge. Travis Barker later joined the group. Their debut studio album, "Cheshire Cat," was released in 1995, setting the groundwork for what was to become an influential force in the punk-rock world. The band's third album, "Enema of the State," catapulted them into mainstream popularity in 1999, with hit singles like "All the Small Things" and "What's My Age Again?" Hoppus continued to lend his talents to later albums such as "Take Off Your Pants and Jacket" and the untitled album commonly known as "Blink-182," featuring darker, more introspective themes that demonstrated the breadth of his songwriting abilities.
Throughout his career, Hoppus has been known for his collaborations with various artists and musicians. From producing the debut album of the punk rock band New Found Glory to co-writing songs with Owl City for their album "The Midsummer Station," his influence and talent have extended far beyond Blink-182. Other collaborations include those with the bands Motion City Soundtrack, Box Car Racer, and The Aquabats, among others. He's also known for his work with artists such as Amy Shark, All Time Low, and Pete Wentz of Fall Out Boy.
Hoppus's work has been recognized and appreciated by his peers and fans alike, resulting in a number of awards and distinctions. Blink-182's "Take Off Your Pants and Jacket" earned the band their first number one album on the Billboard 200 in 2001, cementing their place in punk rock history. The band has also won multiple Teen Choice Awards, including Choice Rock Group in 2000 and 2001. Their single "I Miss You," showcasing Hoppus's deeper, more emotional vocals, brought them a Grammy nomination for Best Pop Performance by a Duo or Group with Vocals in 2005.