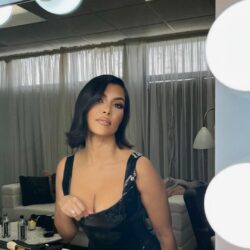 Birthday
April 18, 1979 (44)
Kourtney Mary Kardashian is known by her first and last name, Kourtney Kardashian. She's known to like Pomeranians, her dog Honey is from the same litter as sister Kim Kardashian's dog. Kourtney Kardashian is known for her family. Along with Kim Kardashian and Khloe Kardashian, her family is famous for their reality TV show Keeping Up With The Kardashians. Along with several fashion and beauty ventures with her sisters, she's also known for the spin-off reality shows Kourtney and Kim Take New York and Kourtney and Khloe Take Miami.
Kourtney Kardashian was born April 18, 1979 and is worth an estimated $20 million. She is often seen in TikTok dance videos with her BFF Addison Rae. Kourtney and Addison met because Kourtney's son, Mason, is a big fan of the TikTok influencer. But, Mason's TikTok account was deleted after he gave away Kardashian family secrets during a live stream, Now, his mom and 20-year-old Addison Rae make TikToks together.
Kourtney is also related to Kris Jenner, Kendall Jenner and Kylie Jenner. She has a daughter, Penelope Scotland Disick with Scott Disick.
Kourtney Kardashian Collaborations
Through her company Poosh, Kourtney Kardashian has also collaborated with Ambari Beauty and Saje Wellness. She has also collaborated with Megan Fox for SKIMS, an underwear line. Kourtney has reportedly become close with Fox since their current partners, Machine Gun Kelly and Travis Barker are friends.
Kourtney Kardashian Pets (and what happened to her Bengal cat Charli)
The Kardashian's are often under fire for many unpopular actions, like cultural appropriation or just general Hollywood drama. Recently, the question of whether or not they are getting rid of their pets has come up — due to new pets cropping up in photos while old pets remain out of the spotlight.
Kourtney Kardashian took to Instagram to deny any accusations of getting rid of her beloved Pomeranian Honey, she said, "Wow so much negativity we still have Honey, but thanks for your assumptions. I'll assume Santa wasn't good to you, hence your vibes."
Kourtney Kardashian had a Bengal cat named Charli, who it is rumoured to have either died or been given up for adoption. Charli was once a Christmas gift for her child, Mason, but now rumours circulate as to what actually happened to the exotic cat. She also still has a Pomeranian named Honey, and a Golden Retriever named Cub.