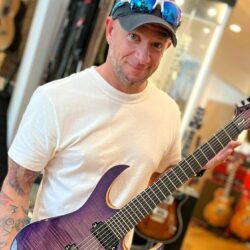 Birthday
April 15, 1975 (48)
Philip Labonte is a heavy metal vocalist best known as the lead singer for the band All That Remains. He has also been a member of Shadows Fall and Perpetual Doom. Labonte has achieved significant success with All That Remains, releasing eight studio albums and earning numerous accolades, including a Metal Hammer Golden Gods Award for Best International Band.
One of Labonte's most significant career milestones came in 2004 with the release of All That Remains' second studio album, "This Darkened Heart." The album was a critical and commercial success, featuring popular songs such as "Tattered on My Sleeve" and "The Deepest Gray." The band's subsequent albums, including "The Fall of Ideals," "Overcome," and "For We Are Many," also received critical acclaim and helped solidify All That Remains' place in the metal scene. He has also been recognized for his contributions to music, earning honors such as Metal Hammer's Golden Gods Award for Best International Band in 2019.
Labonte has collaborated with a number of notable artists and musicians throughout his career. In 2013, he provided guest vocals on the song "Blood Like Gasoline" for the band Eve to Adam. He has also collaborated with members of Killswitch Engage, Unearth, and Hatebreed.
In addition to his music and animal welfare work, Labonte is also known for his outspoken political views. He has been vocal about his support for the Second Amendment and his opposition to gun control measures. He has also expressed conservative views on immigration and other political issues, sometimes drawing criticism from fans and fellow musicians.