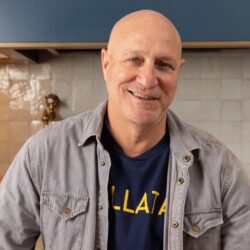 Birthday
August 15, 1962 (61)
Tom Colicchio is an American chef and television personality, widely recognized for his pivotal role as the head judge on the popular reality cooking series, "Top Chef." He has made his mark in the culinary world with his innovative approaches and distinctively bold flavors.
Colicchio began his professional culinary journey in New York, where he opened his first restaurant, Gramercy Tavern, in 1994. Gramercy Tavern soon became a landmark in the city, securing him a prominent spot in the culinary landscape. In 2001, he opened the Craft restaurant, which introduced the unique concept of 'a la carte' dining to New York, with customers choosing their dishes directly from the list of ingredients. This innovative approach was instantly loved and catapulted him into the limelight. He expanded his restaurant empire with the Craftsteak and 'wichcraft chains. His television journey began in 2006 when he became the head judge on "Top Chef," a role he has held for many seasons.
Throughout his career, Colicchio has collaborated with many celebrated chefs and personalities. These collaborations often took place on "Top Chef," where he shared the screen with famed culinary masters like Wolfgang Puck, Emeril Lagasse, and Eric Ripert. He also worked with accomplished restaurateurs such as Danny Meyer, with whom he opened Gramercy Tavern. In the entertainment world, he's made numerous appearances on talk shows, engaging in delightful culinary segments with hosts like Jimmy Fallon, Ellen DeGeneres, and Stephen Colbert. Furthermore, he teamed up with Padma Lakshmi, Gail Simmons, and Richard Blais on Top Chef.
Colicchio's distinctive culinary vision and television charisma have earned him a series of prestigious recognitions. His first restaurant, Gramercy Tavern, received the James Beard Foundation Award for "Best New Restaurant" in 1995, just a year after its opening. Later, in 2010, he was honored with the James Beard Foundation's "Outstanding Chef" award, cementing his reputation as a top chef in America. Additionally, his television career has brought him multiple Primetime Emmy nominations, with "Top Chef" winning the "Outstanding Competition Program" category in 2010.