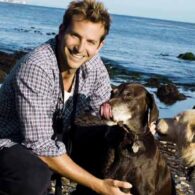 Samson
Bradley Cooper saved Samson from animal shelter when he was three weeks away from euthanization, saving his life. Cooper ended up loving Samson, a brown German shorthaired pointer who passed away at 15 years old in 2010, like his own son. He loved him so much he has a giant portrait of the pup hanging in his living room.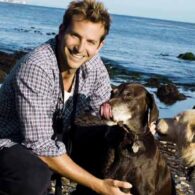 Charlotte
Charlotte is a white chow mixed with a golden retriever. Bradley Cooper found her in a shelter in Santa Monica and has said it was, "love at first sight." Renèe Zellweger once walked Charlotte to visit Cooper on set while they were dating. After feeding the dog a sandwich, Cooper had to take Charlotte to the vet. He and Zellweger broke up shortly after — coincidence? We think not.
Charlie Cooper
Charlie, a big, fluffy labradoodle, is arguably the most famous dog in Bradley Cooper's household. He starred in A Star is Born alongside Cooper and Lady Gaga, a known dog-lover herself, and stole the show! During the filming, Lady Gaga and Cooper would constantly be playing with Charlie. Cooper has said he cast his own dog so the characters of the film would have a believably close relationship with their pet, since the couple did not have children. Cooper has since said that, since becoming a star, Charlie doesn't have time for him anymore, joking that Charlie "has an agent. I don't talk to him much anymore. He doesn't return my calls. He always walks away from me unless I have food." The pup was named after Bradley Cooper's late father, who passed in 2011.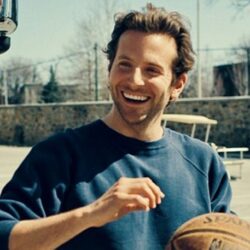 Birthday
January 5, 1975 (48)
Bradley Charles Cooper, occasionally called "Coop" by fans who have named themselves "Mini Coopers," is an American actor. He's a known dog lover. Bradley Cooper became a household name after his role in Wedding Crashers, though he had other, well received roles prior to that. He's received PETA's inaugural "Compassion in Film Award" for casting his dog, Charlie, in A Star is Born amongst other notable accolades for his acting career.
Bradley Cooper Career
His first on-screen appearance was opposite Sarah Jessica Parker on Sex and the City in 1999. Next, he worked as the presenter for the travel series Globe Trekker which aired in 2000. That same year, he earned a Master of Fine Arts degree in acting from the Actors Studio Drama School. His film debut in Wet Hot American Summer (2001), which also starred Paul Rudd, Amy Poehler and Elizabeth Banks. He then gained attention for his role in the TV series Alias, which ran from 2001 to 2006.
His acting career started to take off after playing opposite Owen Wilson, Vince Vaughn and Rachel McAdams in Wedding Crashers (2005). His most iconic role came in 2009 with The Hangover and its two sequels, co-starring Ed Helms and Zach Galifianakis, and featuring Mike Tyson and Ken Jeong. The Hangover brought Cooper close to Ed Helms and Zach Galifianakis, inspiring a real-life bromance between the three men. Apparently, after the second Hangover was poorly received by fans, neither Cooper nor the others wanted to do the third, but they managed to be convinced by the studio with a fat cheque.
He is also known for starring in The Silver Linings Playbook (2012) with Robert De Niro and Jennifer Lawrence and American Hustle (2013), with Christian Bale, Amy Adams, Jeremy Renner and Jennifer Lawrence. He starred in and produced war biopic American Sniper (2014). He's recently known for voicing Rocket Racoon in Marvel's Guardians of the Galaxy and its sequel, which also stars Chris Pratt, Zoe Saldana and David Bautista.
Personal Life
Bradley Cooper has often been private about his past relationships. He's been married once, to actress Jennifer Esposito, however it only lasted four months in 2006. "It was just something that happened," Cooper has stated on the subject. "The good thing is, we both realized it, sometimes you just realize it. … It just wasn't right."
Cooper has one daughter with Victoria Secret and Sports Illustrated supermodel Irina Shayk. He has said, "Having a child, and having a family of my own—which is a miracle and something I've always dreamt of—has opened me up even more, I guess, to the day, and to be present. Apparently, he spent a large part of COVID-19's first lockdown with his mom and daughter holed up in his townhouse. Cooper said he was thankful for the backyard and that he and his daughter would do swimming lessons in his bathtub.
In the past, Bradley Cooper has also dated stars like Renée Zellweger, Jennifer Lopez, Cameron Diaz and Olivia Wilde.