 German Shepherd (Diaz) (Dog)
Not much is known about Cameron Diaz's German shepherd, but it has been photographed with Diaz on many occasions by the media.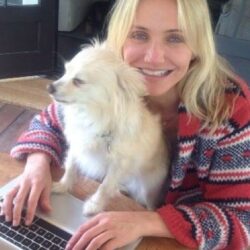 Birthday
August 30, 1972 (51)
Cameron Diaz whose successful career as an actor has earned her an estimated $90 million net worth. Her films have grossed over $3 billion in the States and $7 billion worldwide, which makes her the second highest grossing actress in the U.S. box office after Scarlett Johansson. She started her career as a model at 16, working for brands such as Levi's and Calvin Klein. In 1993, the 21-year old launched her film career when she landed the lead role opposite Jim Carrey in The Mask. This movie became one of the biggest films of 1994 and made her instantly famous.
After a few independent films, she starred opposite Ben Stiller in There's Something About Mary, which earned her first of four Golden Globe Award nominations. Starring in over 30 movies, she is also known for her roles in Being John Malkovich, Any Given Sunday, Shrek, Gangs of New York, Vanilly Sky, Charlie's Angels and many more. In 2015, she married musician Benji Madden.