 No Pets (Julie Delpy)
Julie Delpy does not have any reported pets.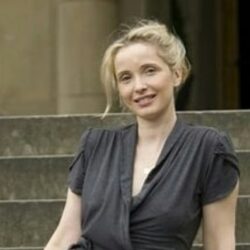 Birthday
December 21, 1969 (53)
Julie Delpy is a French-American artist, widely recognized for her impactful roles in cinema, such as Céline in the critically acclaimed "Before" trilogy. Her expansive career in the film industry spans several decades and extends beyond acting to include writing, directing, and composing music.
Delpy's contributions to film and television are significant and varied. Her breakthrough came from playing the intelligent and complex character Céline in Richard Linklater's "Before Sunrise" (1995). This role was reprised in two sequels, "Before Sunset" (2004) and "Before Midnight" (2013), forming a trilogy that garnered widespread acclaim for its authentic portrayal of romantic relationships over time. Outside the "Before" series, Delpy impressed audiences with her performances in films such as "Europa Europa" and "Killing Zoe". Delpy also tested the waters of horror-comedy with her directorial venture "The Countess", an intriguing take on the life of the infamous Countess Bathory.
Throughout her career, Delpy has collaborated with a plethora of esteemed artists. Notably, she worked with director Krzysztof Kieślowski in "Three Colors: White." Richard Linklater, her long-term collaborator on the "Before" series, greatly contributed to shaping her career. Renowned actors Ethan Hawke, Adam Goldberg, and Daniel Brühl have also shared the screen with Delpy. In addition to her work with film celebrities, she partnered with composer David Hirschfelder on the movie "An American Werewolf in Paris", expanding her artistic repertoire. Furthermore, she joined forces with industry veterans like Woody Allen, Sydney Pollack, and Gérard Depardieu on different projects.
Over the years, Delpy has been recognized for her exceptional talent and work in the film industry. She earned Academy Award nominations for Best Adapted Screenplay for "Before Sunset" and "Before Midnight". Additionally, she received a César Award for Most Promising Actress for her role in "La Passion Béatrice" and was nominated for a European Film Award for Best Actress for "Two Days in Paris". Her directorial work in "The Countess" was also well received.