Many dogs find successful careers on TV, but it's almost always in entertainment, such as TV shows or movies. But why don't dogs get the same opportunity to work in journalism and broadcasting? Well, one dog in Toronto, Canada, smashed the glass ceiling of his crate over ten years ago. That career-focused canine is known as Storm the Weather Dog, who helps report the weather at Global News.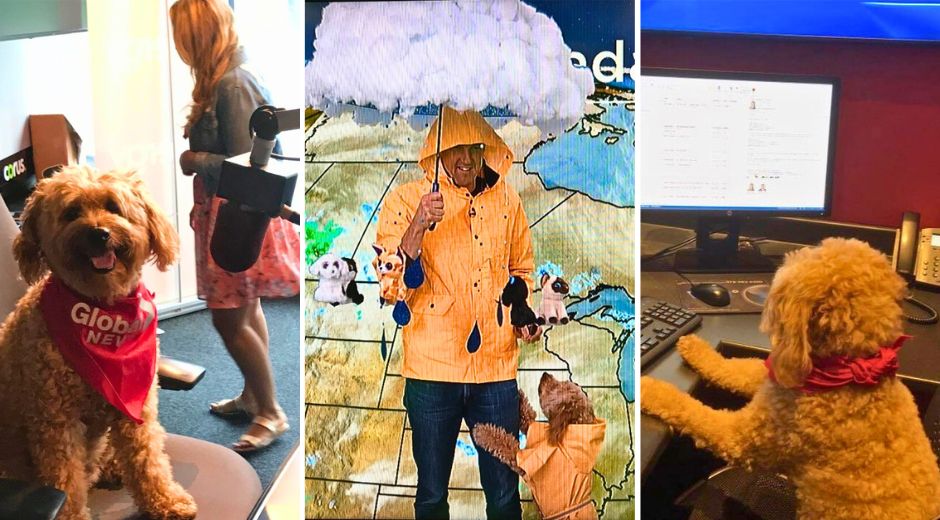 Sure, a talented dog can land an audition to act on TV. But how often do dogs get the chance to apply for a serious TV role like reporting the news? Pretty much never. But that didn't stop Storm. Because one day way back in 2012, he didn't wait for permission, he just marched right onto a live weather broadcast!
After the clip of the incident above went viral, the news station just had to bend to public demand and have Storm as a regular guest reporter.
So you'll often see Storn reporting the weather, alongside his human, Anthony Farnell, who happens to be the Chief Meteorologist at Global News.
Yes, some haters might say it's fur-nepotism, but we all know Storm is clearly good at his job – With 10+ years of experience to back it up.
And while he's known as a hard-working dog named Storm, he also appreciates the sun and taking time off.
You can follow @stormtheweatherdog on Instagram and Facebook. And for another career canine, meet Tuscan Prime, a stray dog turned car salesman!