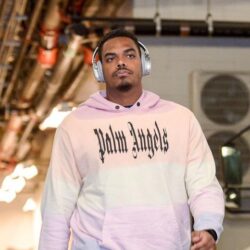 Birthday
March 18, 1994 (29)
Ronnie Stanley is an American football offensive tackle, most recognized for his tenure with the Baltimore Ravens in the National Football League (NFL). Making a mark from his initial days, Stanley was drafted by the Ravens as the sixth overall pick in the 2016 NFL Draft, immediately establishing his importance within the team through his formidable defense and ability to read the game.
The narrative of Stanley's career is incomplete without the mention of his pivotal roles on the gridiron. His performances have been nothing short of influential, helping to solidify the Ravens' offensive line. His 2019 season was a hallmark, where his exemplary performance earned him a spot in the Pro Bowl and also saw him named a First-Team All-Pro, an honor distinguishing him as one of the finest at his position in the league.
The synergy between Stanley and other notable NFL athletes has been a cornerstone of the narratives surrounding his career. His interactions on and off the field with Marlon Humphrey, Lamar Jackson, Mark Andrews, Justin Tucker, Patrick Ricard, Orlando Brown Jr., Calais Campbell, Marcus Peters, Derrick Wolfe, and Marquise Brown have not only fostered a compelling Ravens' camaraderie but also contributed to many significant victories and memorable plays that are etched in the annals of the league.
Over the years, Stanley's efforts have not gone unnoticed. His journey is adorned with recognition from both his team and the league. Besides his 2019 Pro Bowl selection and First-Team All-Pro recognition, his consistency and excellence on the field have made him a linchpin in the Ravens' offensive setup, earning him a substantial contract extension in 2020, which further cements his legacy as a pivotal player for his team.