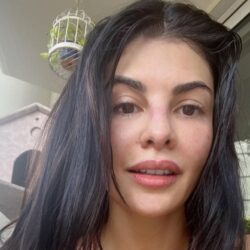 Birthday
August 11, 1985 (38)
Jacqueline Fernandez is a Bahraini-born Sri Lankan actress and former model, known for her notable role in the Indian film "Murder 2."
Since making her debut in Bollywood with the movie "Aladin" in 2009, Fernandez quickly made a name for herself in the Indian film industry. Her breakthrough came with the psychological thriller "Murder 2," where she played the lead female role alongside Emraan Hashmi. Her success continued with popular movies like "Kick" co-starring Salman Khan, "Housefull 2," "Housefull 3," and "Race 2," where she worked with an ensemble cast of renowned Indian actors. Fernandez has also appeared in Sri Lankan films, expanding her influence beyond Bollywood. Her flair for dance and commitment to her roles has resonated with audiences and critics alike.
In terms of collaborations, Jacqueline Fernandez has worked with a wide array of artists and influential individuals. Her collaboration with Salman Khan in "Kick" was a significant box office success. She also starred alongside John Abraham in "Dishoom" and "Race 2," Saif Ali Khan in "Race 2," Akshay Kumar in the "Housefull" series, Varun Dhawan in "Dishoom," and Ranbir Kapoor in "Roy." These associations with leading figures in the industry have helped in enhancing her visibility and appeal as an actress.
Jacqueline's career has been marked by several honors and distinctions. She won the IIFA Award for Best Female Debut for her role in "Aladin." In addition to this, she was awarded the Stardust Award for Exciting New Face for the same film. Her performance in "Kick" led to a nomination for the BIG Star Entertainment Award for Most Entertaining Dancer.
Apart from her acting career, Fernandez is also known for her advocacy for animals. She has been associated with PETA (People for the Ethical Treatment of Animals) and has been involved in various campaigns promoting vegetarianism and condemning animal cruelty. Her commitment to animal welfare extends to her personal life, as she has adopted strays and encourages responsible pet ownership.