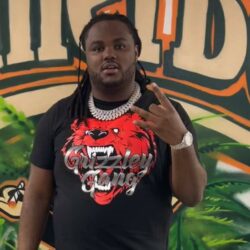 Birthday
March 23, 1994 (29)
Tee Grizzley is a rapper from Detroit, Michigan, who burst onto the scene in 2016 with his breakout single "First Day Out." Born Terry Sanchez Wallace Jr., Tee Grizzley grew up in a challenging environment, spending time in juvenile detention centers before turning his life around and pursuing his passion for music.
"First Day Out," which chronicles Tee Grizzley's release from prison, quickly went viral and caught the attention of prominent figures in the music industry. The success of the song led to a record deal with 300 Entertainment and collaborations with some of the biggest names in hip-hop.
One of the most significant milestones in Tee Grizzley's career was the release of his debut studio album, "Activated," in 2018. The album features collaborations with Lil Pump, Chris Brown, Jeezy, and others, and debuted at number 10 on the US Billboard 200 chart.
Tee Grizzley's collaborations with other artists have been a significant part of his success. He has worked with notable figures such as Chance the Rapper, Meek Mill, YNW Melly, and Quavo, among others. His collaborations with fellow Detroit rapper Sada Baby on the tracks "Next Up" and "Twin Chops" were particularly well-received by fans.
In addition to his music career, Tee Grizzley also loves dogs. In a 2019 interview with XXL Magazine, Tee Grizzley stated, "I love animals. They're like people to me. They have feelings and emotions just like us."