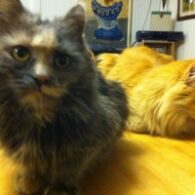 Symphony Sid and Suzzy (Cat)
Before MC Fresh Step, John Flansburgh, one half of They Might Be Giants, had two enigmatic cats named Symphony Sid and Suzzy, each with a backstory as unique as their owner. Symphony Sid, named after a '50s jazz DJ, is the household's apex predator, a dichotomy of elegance and ruthlessness. On the other hand, Suzzy, named after '70s folk-rock musician Suzzy Roche, complements her gritty personality with a dash of funk. Living between the city and the countryside, these cats truly embody the complexity and richness of Flansburgh's own eclectic life and art.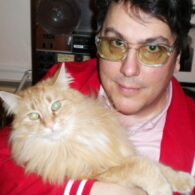 The Governor (Cat)
John Flansburgh's former feline companion, The Governor, has been immortalized through art. Flansburgh has painted the remarkably distinct silhouette of The Governor on a dozen ukuleles over the years, describing the process as meditative. The Governor, who lived to around 16, was a notably affectionate cat with a ghostly white appearance that elicited comments on his cleanliness. Unlike Flansburgh's cats, Symphony Sid and Suzzy, who resemble fluffballs, The Governor had a sharp, clear outline that made him an ideal subject for these artistic endeavors.
Birthday
May 6, 1960 (63)
John Flansburgh is an American musician, best known as one half of the alternative rock duo They Might Be Giants, along with John Linnell.
Flansburgh has achieved significant recognition through his work with They Might Be Giants. The duo's self-titled debut album in 1986 was followed by a string of successful releases, including the certified platinum album "Flood" in 1990, which featured hits like "Birdhouse in Your Soul" and "Istanbul (Not Constantinople)." Albums such as "Here Comes Science" and "No!" have not only entertained younger audiences but have also been instrumental in They Might Be Giants' ongoing success.
Throughout his career, Flansburgh has collaborated with numerous other musicians and artists. He worked with Frank Black of the Pixies, Nick Offerman of "Parks and Recreation," Jonathan Coulton, known for "Still Alive" from the game Portal, and The Elegant Too, composed of Chris Maxwell and Phil Hernandez. Additionally, he has worked with Robin Goldwasser, his wife, who is also a musician and writer, Mike Doughty from Soul Coughing, Corn Mo, a comedy musician, Mark Pender, known for his work on Conan O'Brien's shows, Danny Weinkauf, the band's longtime bassist, and Marty Beller, the duo's drummer.
They Might Be Giants won two Grammy Awards: one for "Boss of Me," the theme song for the TV show "Malcolm in the Middle," and another for their album "Here Come the 123s." Their Dial-A-Song service, which initially served to expose their music through a telephone answering machine, was recognized in 2018 with an honorary Webby Award.