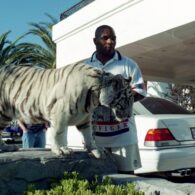 Kenya and Storm and a male tiger Boris
Known for being one of the world's greatest badasses, over-the-top purchases, and his newly found comedy career, Mike Tyson's 3 Royal Bengal tigers are Internationally famous. You might know one of them best from a starring role in hit film, The Hangover in 2009. Tyson bought the tigers for more than $100,000 and had to spend almost that feeding them for a year. Sadly, it turned out Tyson lacked a proper license for owning the tigers and were therefore sent to a refugee in Colorado to live out their days away from the Hollywood spotlight. While Mike Tyson may not own the tigers any longer, we feel they will always be his, because your pets are for life.
Mike Tyson "The Champ", born June 30, 1966, is an American professional boxer, actor, TV personality, and comedian. Tyson was given his first title fight against Trevor Berbick for the World Boxing Council (WBC) heavyweight championship. Tyson won the title by second round TKO, and at the age of 20 years and 4 months became the youngest heavyweight champion in history on On November 22, 1986. After a long standing career as a professional boxer, Tyson graced the spotlight again after a string of bankruptcies. However, that didn't keep The Champ down. Following his short hiatus from the spotlight, Tyson came back to acting, comedy, live performances, the Mike Tyson Mysteries cartoon, and many more appearances in the early 2000s, and continues to perform today.
After boxing, Mike Tyson has appeared in numerous popular media in either cameo appearances or as a subject of parody or satire. This appearances included videogames, commercials, animated content, and films such as Sylvester Stallone's 2006 movie Rocky Balboa where Tyson appears as himself. He also played himself in The Hangover (2009) and The Hangover Part 2 (2011) with Bradley Cooper, Ed Helms, Zach Galifianakis, and Heather Graham.