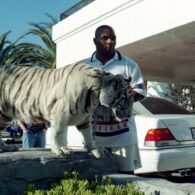 Kenya, Storm and a male tiger Boris
Known for being one of the world's greatest badasses, over-the-top purchases, and his newly found comedy career, Mike Tyson's 3 Royal Bengal tigers are Internationally famous. You might know one of them best from a starring role in hit film, The Hangover in 2009. Tyson bought the tigers for more than $100,000 and had to spend almost that feeding them for a year. Sadly, it turned out Tyson lacked a proper license for owning the tigers and were therefore sent to a refugee in Colorado to live out their days away from the Hollywood spotlight. While Mike Tyson may not own the tigers any longer, we feel they will always be his, because your pets are for life.
Once, a woman who trespassed onto his property and climbed into the tiger's habitat. The tiger mauled her and Tyson said when he saw her hand, he gave her $250,000 in compensation. Because the woman jumped into the habitat, they couldn't sue, but the boxer compensated her out of the goodness of his heart. He said, "when I saw what the tiger did to her hand, I had a lot of money back then, so I gave her $250,000 or whatever it was because she was just f***ed up."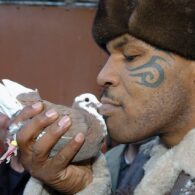 1,000 Pigeons
Mike Tyson is an enigma. He's a known animal lover but doesn't often go the traditional route of a dog or a cat. Or even a goldfish. Mike Tyson has either had white tigers or a flock of pigeons. Currently, Tyson has a collection of around 1,000 birds. He said he's had pet pigeons his entire life, since he was 8 or 9 years old. Growing up in Brooklyn, he said the kids in his neighborhood flew pigeons, and the better your birds, the more respect you had.
Tyson's first fight was over one of his pigeons. A kid stole one of his birds and ripped its head off. "He ripped the bird's head off, hit me with the bird, threw the blood on me, smacked me around," Tyson said. "So my friend said 'Mike, fight him. Don't be afraid, fight him.' … I just fought, it's not like I was sensational. I was just flailing away, and I guess I hit him more than he hit me, so I won I guess."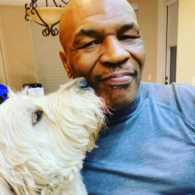 Mars Tyson
Mike Tyson has a dog! It took a global pandemic to get the world famous heavy weight champ to settle down from white tigers into a more mainstream pet, but he did it. Mike Tyson's dog is named Mars and is a white doodle. Apparently, he's tougher than a tiger — Tyson posted a side-by-side picture of him standing with Mars and him standing with a white tiger with the caption, "No stripes needed. Tougher than the tiger. Trust. #checksoverstripes"
Apparently, Mars has a corgi girlfriend because he likes em "short and thick." Mike Tyson has nicknamed him the "Baddest Doodle on the Planet" and judging by his repertoire of ripped apart stuffies and videos boxing his dad, we can see why.
Mike Tyson is also known as "The Champ", "The Iron Man", or "The Baddest Man on the Planet". Tyson is known to have an affinity for exotic animals, especially tigers, and a passion for pigeons. He's an American professional boxer, actor, TV personality, and comedian.
Mike Tyson's Boxing Career
Tyson was given his first title fight against Trevor Berbick for the World Boxing Council (WBC) heavyweight championship. Tyson won the title by second round TKO, and at the age of 20 years and 4 months became the youngest heavyweight champion in history on On November 22, 1986.
After Boxing
After a long standing career as a professional boxer, Tyson graced the spotlight again after a string of bankruptcies. However, that didn't keep The Champ down. Following his short hiatus from the spotlight, Tyson came back to acting, comedy, live performances, the Mike Tyson Mysteries cartoon, and many more appearances in the early 2000s, and continues to perform today. The Mike Tyson Mysteries cartoon shows Tyson's affinity for pigeons, with Norm Macdonald voicing Pigeon, a man who was turned into a pigeon after cheating on his wife.
After boxing, Mike Tyson has appeared in numerous popular media in either cameo appearances or as a subject of parody or satire. This appearances included videogames, commercials, animated content, and films such as Sylvester Stallone's 2006 movie Rocky Balboa where Tyson appears as himself. He also played himself in The Hangover (2009) and The Hangover Part 2 (2011) with Bradley Cooper, Ed Helms, Zach Galifianakis, Ken Jeong, and Heather Graham.
Mike Tyson Dog and Boxing Match
The Baddest Man on the Planet returned to boxing after 15 years away in November 2021. To get ready for the occasion, he fed his dog, Mars, a cake in the shape of Roy Jones Jr's head as a Thanksgiving meal. Three judges scored the contest 79-73 (in favor of Tyson), 80-76 (in favor of Jones Jr.), and 76-76 (draw) to end the bout as a draw. But, both men made a couple million off the fight — $10 million for Tyson and $3 million for Jones. Now, it's rumored The Iron Man might be fighting Logan Paul. Will Mike Tyson's dog get another cake shaped like a head?